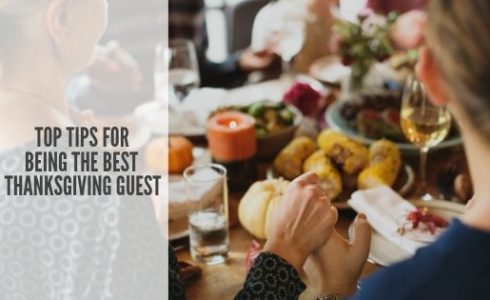 Top Tips for Being the Best Thanksgiving Guest
Nov 5, 2019
Most Thanksgiving tips focus on hosting and preparing the meal – preparing the house, menu, cooking, everything. But not everyone hosts Thanksgiving; some people simply get to be Thanksgiving guests. But being a delightful guest is just as important!
Before you head out to spend Thanksgiving with loved ones, keep these tips in mind on how to be the best Thanksgiving guest ever.
RSVP in a timely manner
Don't leave your host hanging! Since Thanksgiving dinners are planned far in advance, it's important to let your host know if you'll be attending as soon as possible so they can plan the meal accordingly. When you accept an invitation, be sure to let them know about any dietary restrictions you may have.
Ask if you can bring something
When accepting a Thanksgiving invitation, ask if you can bring anything to contribute. If you have a food allergy or special dietary needs, this is a great opportunity to offer to bring something you can definitely eat. Even if your host tells you not to bring anything, it's still a nice gesture to bring some wine (or sparkling cider) or flowers.
Don't show up early
Getting a Thanksgiving meal on the table requires a tight schedule so surprise early arrivals can throw off even the most prepared host; no host wants to welcome guests before they've had a chance to clean up! That said, try not to be late either, unless you've already spoken to the host ahead of time. You don't want to hold up dinner, especially if you're bringing a dish.
Bringing a dish? Bring everything you need
If you're contributing a dish, bring everything you need to serve it, including utensils. Don't assume your hosts will have enough serveware to accommodate your dish. Likewise, if your dish needs to be refrigerated or warmed in the oven, make arrangements with your host ahead of time so they can plan accordingly.
Lend a helping hand
Once you arrive and settle in, ask you can help your host. They may shoo you away but the offer is always appreciated. If they do decline your offer, do them a favor and stay out of the kitchen until dinner is ready. After the meal, help with cleaning up. Let your host tell you where and how you can help and do your best to follow their directions.
Be gracious
Last but not least, let your host know how much you appreciate their hospitality. Your host put in a lot of work. A compliment and genuine thank you will go a long way.
Being a guest requires less effort but there's plenty you can do to help your host and make this a delightful Thanksgiving for everyone. These tips will help make you the best Thanksgiving guest ever and ensure you get an invitation for next year!