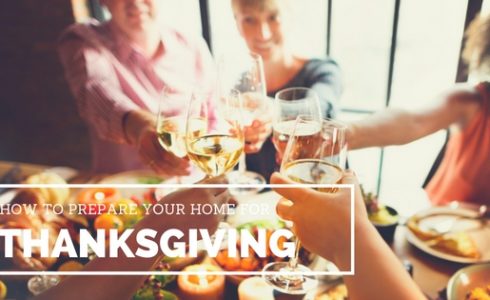 How to prepare your home for Thanksgiving
Nov 14, 2016
Thanksgiving is right around the corner and now is a great time to start getting your home ready before your family and friends begin arriving. Here are some tips you can use to get your home in shape for a smooth Thanksgiving holiday.
Ready Your Home
Take some time to get your home ready to welcome your holiday guests. When you're cleaning your home, remember to make room for coat, shoe and purse storage for your guests and make sure your bathrooms are fully stocked with the essentials that are easy for guests to find.
This is also a good time to make note of the number of tables and chairs you have and figure out if you'll need to borrow or rent additional seating to accommodate your guests.
Make the Beds
If you're hosting overnight guests, you can make their stay more comfortable by thinking ahead. Your guest room doesn't have to be styled like a fancy hotel room; your guests will appreciate the essentials: fresh sheets, pillows, and extra towels, a place to store their clothes, a bedside table with a working lamp and the WiFi password.
Prep Your Kitchen
Your kitchen will be your command room so make sure you've gotten everything ready and organized so the holiday meal prep runs more smoothly.
Check your pantry: Before you head to the grocery store, take time to clear space in your pantry. Review your inventory or staple ingredients, toss out any old spices and make your shopping list.
Clear out the fridge and freezer: Likewise, you'll also want to clear out any old food from your fridge and freezer. Not only will this make room for the holiday food, it'll also let you get rid of expired and unwanted food you probably forgot were even there.
Sharpen knives: Have your knives professionally sharpened and plan which serving utensils and bakeware you'll use for each dish and determine if you'll need to purchase more.
Decide where you'll serve food: Will you be serving your food as a buffet or go the traditional route with family-style on the table? Which either option, pull out your serving dishes to make sure you have enough dishes. Another handy tip is using sticky notes to remind yourself which dish goes with each serving platter.
Clean silverware: If you're using your fancy silverware, go ahead and clean them ahead of time so you don't have to try to clean them the morning of while trying to cook
Clean your oven: But don't use the self-cleaning option! You don't want to risk breaking your oven right before Thanksgiving. Instead, wipe down the inside of the oven and around the burners with mild detergent or an oven cleaner. If you want to avoid using conventional oven cleaners try this guide for non-toxic cleaning options
We hope these tips are helpful as you prepare to welcome family and friends to your home this Thanksgiving holiday. However you end up celebrating the holiday, we hope you have an enjoyable and memorable time.