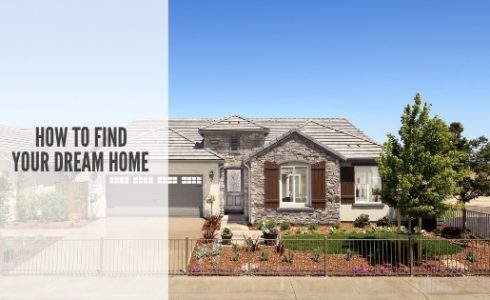 How to Find your Dream Home
Apr 30, 2019
Finding your dream home is an exciting first step towards homeownership, but it can be quite the roller coaster. One day you're happily looking through home listings and the next, you'd rather do anything else than trek to another open house. We've all been there.
Finding the right home can take some time but thankfully, with some preparation, you can be better prepared. Save yourself some time and headaches by figuring out what you need and want in your new home before you start home shopping. Here are some ways to get started:
Make a priority list
This is your first and, admittedly, one of the most important steps to finding your dream home. Sit down with your partner and discuss what's the most important features you need in your new home and list them in order of priority. You should go in knowing which features are your non-negotiables and which you're willing to compromise on. Since few of us have an unlimited budget to build a home to our exact specifications, knowing what you're willing to live without will make finding your new home a bit easier.
As you get deeper into the house hunt, you'll being to understand how your housing preferences affect your options. This checklist is a great starting point when putting together your priority list.
Chose a home style
We're not talking Craftsman versus Tudor or Cape Cod here! Your choice in home type will depend on several factors, including what you can afford, how much maintenance you want to do, they type of community/neighborhood you want to live in, and you're your family size.
Condos provide the benefits of homeownership without the exterior maintenance. You'll sacrifice a bit of privacy for community amenities and location. Townhomes are great for people getting into home ownership who want to own some land but don't really want, or need, a lot of yard space.
On the other end of the spectrum, traditional detached single-family homes are ideal for people who want privacy, don't mind handling home maintenance chores, and want a private yard for their families.
Futureproof your home
Many homebuyers focus on what they need right now in a home and often purchase a home that ultimately isn't ideal for their situation and need to find a new home quickly. Don't be shortsighted! If you're single or newly married, purchasing a smaller starter home can work if you plan on staying for several years before moving into something bigger as your life changes. However, if you plan on having kids or moving in a parent soon, you'll definitely want factor in the extra space now.
Decide if you want new construction or an existing home
Choosing between a new construction home and an existing home is an individual choice. While new construction homes are typically more expensive than existing (or resale) homes, they're usually save homeowners money over time since they're more energy efficient and require less maintenance than existing homes. We outline how to choose the right home for you in this blog post.
Don't give up!
Sometimes the house hunting phase drags on longer than expected and you can start to feel like Goldilocks: this house is too big; this one is too small. You may feel like you'll never find the right home for the right price and may feel like quitting, but don't! Even if your home search takes months, remember that a new home is at the end of the journey.
Finding your dream home isn't always a quick and easy process, but it's always worth the time and effort in the end. When you're ready to find your new home, we're ready to help! Visit us online at FCBHomes.com to view our new home communities throughout Stockton, Lodi, and Manteca. Your new home awaits!