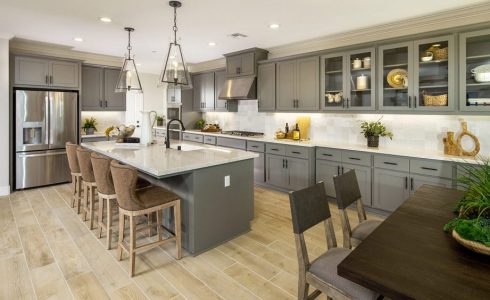 Home Upgrades that Increase Value
Oct 4, 2022
Whether you're planning on selling your home in the coming months or just want to update your home, renovating your home is a smart move. Renovations are a common way to increase your home's equity or get the most possible when it's time to sell. But that doesn't mean you should upgrade your home to the max. When planning home renovations, it's important to know that not every upgrade provides the same value! Check out the top home upgrades that will give you the most value for your money.
Garage door replacement
Replacing the garage door pays for itself, recouping 95.1% of the cost. Choose a garage door made from steel, wood composites, or aluminum. Be aware that your recoup value may be lower if you have to replace the motorized opener.
Manufactured stone veneer
Anything that enhances your home's curb appeal is smart choice; especially since it makes an impression on homebuyers before they step foot inside. Adding a stone veneer to the bottom third of your home's street-facing facade typically returns 92.7% of the cost at resale.
Minor kitchen remodel
Upgrading the kitchen is the most popular upgrade homeowners make. This is usually a safe bet, netting an average of 77.9% of the cost. While kitchen renovations can cost several thousands of dollars, you don't need to invest as much as you think to reap a good return. Be strategic with your upgrades: replace cabinet doors for new shaker-style panels, and changing hardware and fixtures. Replacing older appliances for newer, energy-efficient models is another great option.
Deck addition
Outdoor living space is highly sought-after, especially in the Bay Area. Anything that extends your living space and creates another space for entertaining. Decks made from composite materials get the highest returns, an average of 73.2%. You can also choose wood and still reap 72% of total costs.
Entry door replacement
Steel doors provide lots of benefits: they make homes safer, are energy-efficient, low maintenance, and improve curb appeal. need another reason to upgrade your front door? They return 69.9% of the cost at resale!
There are a lot of options for home improvement projects that can increase your home's value. With careful planning and strategic choices, you can make your home more appealing without breaking the budget and scaring away potential buyers.
FCB Homes builds new homes that offer more of everything you love: more style, craftsmanship, and innovation. When you're ready to buy a new home in Lodi and Riverbank, visit us at FCBHomes.com to learn more about our new construction homes.