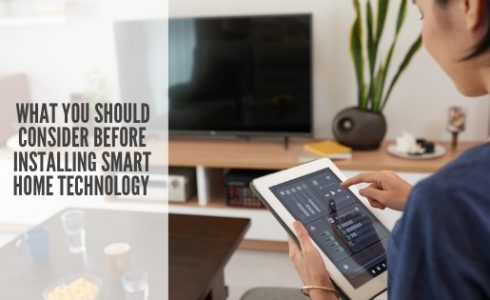 What You Should Consider Before Installing Smart Home Technology
Jul 9, 2019
Home automation, once the stuff of sci-fi fantasy, is now a reality in our homes. From smart speakers to smart doorbells, we can now practically fully automate our entire house. Maybe the allure of home automation is tempting you to jump at adding the latest smart technology to your home but one question must be asked: do you need a smart home?
If you've been thinking about investing in a smart home technology system, here are some things to consider before making the leap.
Does your home support smart technology?
Today's smart technology relies on Wi-Fi access to work. You'll need to consider your Wi-Fi connection speed and its range and stability. Many devices connect directly through your router so you'll need to make sure there's a good signal throughout your entire home.
Most average sized homes are capable of supporting your network with a standard router, but if you have a larger or older home, you may need to consider purchasing a more powerful router or network extenders.
What smart devices do you need?
It's easy to get overwhelmed by the options available to upgrade your devices. But before buying all the things, ask yourself how you want your smart home to work for you. Do you want an integrated system controlled through a hub or smart speaker or would you rather pick and choose preferred devices?
There's no shortage of smart devices available and thankfully you don't need to get everything to enjoy the benefits of home automation. Once you've determined how you want to use smart home technology, you can start outfitting your home.
How will you keep your devices safe?
Because these devices rely on the internet, they can potentially become targets for hackers and identity thieves. Keep your devices and home safe by using these safety precautions:
Use separate and secure passwords for each device. While relying on the default passwords and usernames installed by the manufacturer is convenient, they're easy for hackers to decrypt. You'll also want to avoid reusing passwords as well. If you're worried about remembering all your passwords, you can use a password manager to keep them for you.
Secure your WI-Fi network and router by creating a guest network to connect your smart devices to instead of using your primary network. This will keep your main network safe.
What's your budget?
Smart home technology has become more affordable as more companies join the fray. When creating your ideal automation system, think about how much you're willing (or able) to spend. Did you want to drop the cash on a fully automated system from the start? Or would you prefer to slowly build a system by installing a few key devices first?
Whether you're upgrading your entire home or just adding a few devices, smart home technology can be a smart move for your home.