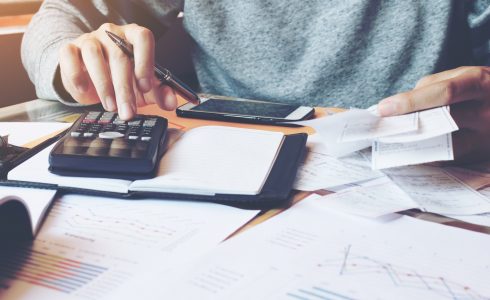 What Credit Score Do I Need to Buy a New Home?
Jul 6, 2021
If you've been thinking about buying a home, you've probably been wondering if your credit is ready to apply for mortgages. Good news is you don't need a perfect score. However, the final answer isn't as straightforward. Ultimately the score you need depends on a few different factors: the lender you choose, the loan type you're qualifying for, and your overall financial health.
Here's everything you need to know.
Credit score requirements by loan type
The minimum credit score needed to qualify for a mortgage varies based on the type of loan you're applying for. Additionally, some lenders may have their own requirements so if you have specific questions, reach out to your loan officer.
Conventional loan. Conventional loans are the most commonly used loan. Unlike FHA, VA, or USDA loans, they're not insured by a government agency. They can be secured from a private lender or one of the government-sponsored mortgage companies like Fannie Mae and Freddie Mac.
Conventional loans require a minimum credit score of 620 and down payment amounts will vary by lender.
FHA loan. FHA loans are insured by the Federal Housing Administration. The FHA is the largest insurer of residential mortgages. They're popular with first-time homebuyers and are good options for borrowers with lower credit scores. FHA loans require a minimum credit score of 500 with a 10% down payment, but if you have a credit score of 580 and above, you can qualify with a 3.5% down payment.
VA loan. Exclusive for active and retired military service members, VA loans are insured by the U.S. Department of Veterans Affairs. Credit score requirements vary by lender, with an average score of between 580-640 (check with your lender for specific requirements). These loans also don't require a down payment or private mortgage insurance. However, you must meet eligibility requirements based on your service record.
USDA loan. Insured by the U.S. Department of Agriculture, USDA loans are designated for rural and eligible suburban areas. Like VA loans, the minimum credit score varies by lender but most like to see a score of at least 640.
How is a credit score calculated?
Knowing your credit score and how it's calculated will help you better determine your standing and plan your next steps. It will also make it easier to pinpoint how you can improve it if necessary.
Your credit score is calculated through a mix of data points, though the exact scoring model depends on the lender. Generally, lenders rely on your FICO score to make their decision. Some of the factors that affect your credit score include your payment history (35%), the amount owed (30%), length of credit history (15%), types of credit (10%), and new credit (10%).
Does your credit score need some help? Here are some steps you can take to improve your credit score.
How does credit scores affect interest rates?
Credit scores play a big role in determining your interest rate. The higher your credit score, the more likely you'll qualify for favorable interest rates. Why is this a big deal? A difference of a single percentage point can mean thousands of dollars over the life of your loan.
In short, the score you need to qualify for a mortgage depends on the type of loan you're applying for. When it comes to your financial wellbeing, the more information you have the better. We've covered a bit about what mortgages are and uncovered the top myths. We highly recommend talking to a home loan expert to see where you stand and discuss any other questions you have.
FCB Homes builds new homes that offer more of everything you love: more style, craftsmanship, and innovation. With strong roots in the Central Valley, you're sure to find the right home for your family. When you're ready to buy a new home in Lodi or Riverbank, visit us at FCBHomes.com to learn more about our homes. We can't wait to welcome you home.