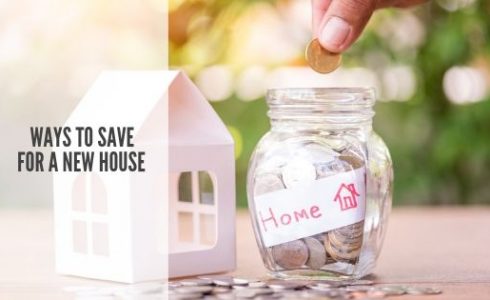 Ways to Save for a New Home
Sep 17, 2019
Buying a home is a major milestone for many people. Even if buying a home is still on the horizon, it's helpful to know what you can do now to make buying a home possible when you're ready. If homeownership is in your future, here are some tips to save for a new home.
Determine your house budget
Before saving a penny, it's important to determine how much home you can afford. Thankfully it's easy to get a rough estimate by using a mortgage calculator. Most experts recommend spending no more than 28 to 30% of your gross income on your home expenses (this is the amount you make before taxes are taken out). It's important to remember that your home expenses include the mortgage, taxes, fees, and insurance.
Set a savings goal
Saving money is always a good idea but it's especially helpful to have an end goal for those funds. Once you've determined how much you'd like to spend on a home, it's time to start saving the down payment. Consider including closing costs (typically 2-5% of the sale price), home inspection and appraisal costs as well.
While 20% is the standard down payment, it isn't a requirement. It's possible to get loans with down payment requirements as low as 3%. Just be aware that you may be required to get mortgage insurance, which can increase your monthly mortgage payment. You can also speak with a mortgage loan officer to see how much you'd be qualified to borrow and use that as your guide to determine how much of a down payment you'll need to save.
Pay down outstanding debt
If you're carrying a lot of debt, the best course of action is to pay that down as quickly as possible. Not only will it make it easier to qualify for a loan, it'll also free up additional money that can be put towards your down payment fund.
Make a budget
Creating and sticking to a budget is the key to saving. Sit down and review all your expenses. It takes some time but you may be surprised where your money goes each month! This will give you a better idea of where you can redirect your money and identify areas you can cut back on. Once you've determined your budget, start tracking your spending to help you stay on track. Remember: budgets don't stop you from spending money; they simply highlight where your money goes.
Put your savings on autopilot
Most of us need a little extra help to save. Create an automated savings plan that can move a set amount to a dedicated savings account for your down payment. This ensures you're putting money aside each month. You can also use services like Digit or Acorns to set aside smaller amounts of cash.
Share your goal
Once you've decided to start saving for a home, be open about your plans! Talking about your savings goal will give you accountability to stay motivated. When you know your family or friends may start asking about your savings progress, you'll be motivated to continue. Another benefit: they may want to help contribute to your goal with cash gifts for birthdays or holidays.
The dream of homeownership is available to anyone who's willing to do the prep work. Once you've saved, it's time to start your home search! When you're ready, visit us at FCBHomes.com and check out our new home communities in Lodi, Stockton, and Manteca.