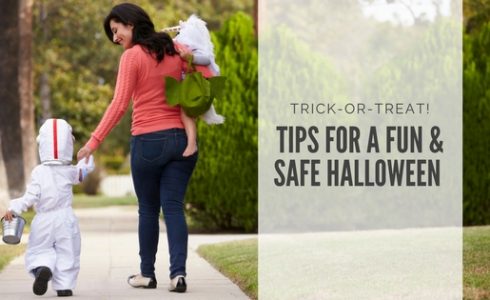 Trick-or-Treat! Tips for a Fun & Safe Halloween
Oct 18, 2017
Halloween is a magical time of year: costumes, spooky parties, trips to haunted houses or pumpkin patches, and don't forget trick-or-treating! Make sure everyone has a fun and safe Halloween by following these Halloween safety best practices.
Be Safe at Home
Clear the walkway of potential tripping hazards like garden hoses, extension cords, or Halloween decorations. If your Halloween decorations move, make sure they're made of soft and safe materials like foam or rubber.
Keep your home well-lit so visitors can safely walk around. This is a good time to check your lighting and replace any bulbs.
Avoid using open flames in your decorations, including jack-o-lanterns. Instead, use LED lights or glow sticks to reduce fire risks.
Trick-or-Treat safely
It's recommended for children under 12 should be supervised while trick-or-treating. If your kids are mature enough to go without adult supervision, make sure you know where they plan to trick-or-treat, agree to a specific time for them to return home and stay with their group.
Make sure your kids' costumes are visible in low light by either wearing bright colors or attaching reflective tape. You can also use glow sticks or flashlights to help improve their visibility.
Instruct children to never enter a person's home to receive candy or car.
Snacking on candy while trick-or-treating is tempting but let your children know that you'll be inspecting their haul before they can start eating. If they can't wait, bring a small bag of candy along with you to appease their sugar cravings.
Protect your pets
Don't forget about your furry family members! Keeping your pets safe on Halloween is important, and thankfully not tricky.
Put up any treats they shouldn't eat. Candy may be delicious to us, but it can be potentially toxic to Marley. Chocolate and sugar-free candies that contain the artificial sweeter, xylitol, can cause serious problems for pets. If you think your pet has eaten something toxic, call your veterinarian or the ASPCA Poison Control Center at 888-426-4435 immediately.
Place decorations out of reach of your pet to keep them from knocking over something or chewing on wires. While pumpkins are considered relatively nontoxic, some pets may experience some stomach discomfort if eaten.
Halloween brings a lot of visitors to your door, which may be overwhelming to pets. Keep them in a separate room away from front door during peak trick-or-treating hours. You'll also want to take care when opening the door to make sure they don't run out into the street. Needless to say, make sure your pets are wearing proper identification in the event that they do escape.
Limit costumes. We'll admit we have a weakness for a pup in an adorable costume, but if your cat or dog looks miserable while wearing the costume, save them the distress and let them run around au natural. If they love wearing costumes, check that the costume doesn't limit their movement, vision, or breath. Be sure to remove any potential choking hazards as well.
Safety tips for drivers
Drive slowly and be on alert while driving through residential areas. Excited children may dart into the street without looking first.
Be extra careful when approaching intersections, medians and curbs and while entering or leaving a driveway or alley.
Be aware for children in dark clothing or costumes as it gets darker.