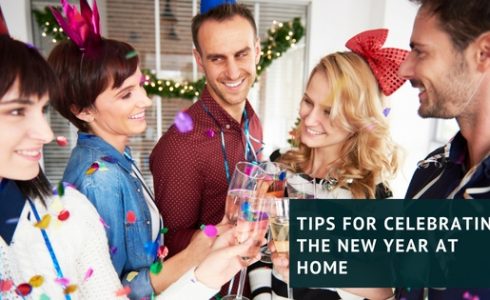 Tips for Celebrating the New Year at Home
Dec 26, 2016
For many people, the idea of celebrating New Year's Eve at a high-energy party with a large crowd of strangers is the last thing they'd want to do. For those who would rather welcome the new year from the comfort of their home, here are some ways you can host a low-key and festive New Year's Eve part from home.
Dress for Success: Let your guests know to keep their celebratory outfits casual (but are welcomed to dress up if they like). You can even encourage your guests to wear their pajamas –because there's a strong chance you'll be asleep before midnight anyway!
Make it family-friendly: Finding a babysitter can be difficult on a regular night and a real nightmare on a holiday night like New Year's Eve. Make your party family-friendly so everyone can skip the babysitters and attend. Set up a separate room where the kids can watch movies, play games or stay busy with other kid-friendly to keep them entertained.
Keep the menu simple: Skip the sit-down dinner and opt for appetizers and desserts, anything that's easy to eat while mingling. Consider buying store-bought cheese & meat plates or fruit trays and other specialty finger foods. For beverages, offer a selection of alcoholic and non-alcoholic drinks: beer and wine or a specialty cocktail (preferably something that can be served from a pitcher), sparkling apple cider, juice or soda.
Make it festive: If your home is already decorated for Christmas, keep those decorations up! Also, consider picking up some fun New Year's Eve hats and noisemakers to welcome in the new year at midnight.
Sounds of the party: While you don't have to recreate a dance club, play background music for your party. While there aren't a lot of New Year's-themed songs, feel free to extend Christmas a little bit longer by playing some Christmas music. Don't forget to have a TV on to countdown to midnight when the time comes!
Plan for overnight guests: Once the New Year has officially begun and the party is starting to wind down, it's time to say good-night to your guests. While most guests will be able to find their way home, make sure to have some sleeping arrangements set up for those who may need to stay over.
Whether you brave the crowds to welcome the new year or celebrate from the comfort of your home, we hope you have a wonderful new year.