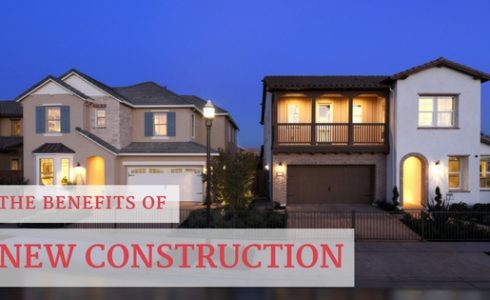 The Benefits of New Construction Homes
Aug 3, 2016
Among the many questions homebuyers ask themselves when shopping for a new home, deciding whether to buy new construction or an existing home is one of the first ones. Both types of homes have their benefits but here are a few reasons why almost half of Americans would prefer to buy a new construction home.
Fully customizable
An obvious benefit of buying new construction is the ability of customize the features to fit your lifestyle instead of spending extra time and money trying to update an existing home to fit the needs of your family. Depending on the stage of construction, you may also be able to make pre-construction selections including exterior elevation styles and colors, electrical and plumbing decisions and additional plan options. You also have the ability to select the floorplan, lot and community of your new home, and you have the opportunity to work with our Design Center team to select the finishing touches to make your home perfect and uniquely you.
Modern Features and Layouts
New homes are built for today's modern sensibilities and lifestyles and are typically larger than existing homes. They are also wired for today's connected world (how many times have you bemoaned the lack of wall sockets in your home?) and often feature open layouts, larger kitchens (with plenty of storage space), closets, bedrooms and bathrooms, garages, high ceilings and top-of-the-line appliances. Instead of having to add these features to an existing home, new construction homes already have these features ready to go.
Reduced Maintenance Costs
An obvious benefit of new construction is that, it's new, which means your maintenance costs will be lower. With brand-new appliances, plumbing, heating, windows, and roof (among many other manufactured products) you shouldn't have to worry about repairs for a while. Even with that, builder warranties will cover repairs for these items (see your builder warranty for more information).
More Energy-Efficient
Today's building materials are more energy-efficient than those used in existing homes. FCB homes are equipped with many standard earth-friendly and energy-efficient features including tankless water heaters, water-efficient plumbing fixtures, Energy Star dishwashers, energy-efficient windows that are designed to save homeowners on utility bills.
Discover what FCB Homes has to offer in new homes: more value, more function, more efficiency and more comfort. Contact us today to schedule a tour of our new homes in Lodi.