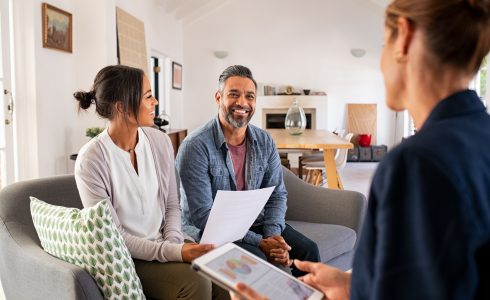 Starter Home vs Forever Home: How to Choose
Mar 22, 2022
One story or two? Detached or attached home? City or suburbs? There are a lot of questions to answer when figuring out the type of home you want to buy, but one of the toughest first-time homebuyers need to answer is whether to buy a starter or a forever home.
There are benefits to both but ultimately it depends on a buyer's individual circumstance. Here's what you need to know about starter homes and forever homes and how to choose the best option.
What is a starter home?
A starter home is any home a first-time homebuyer can buy but expects to outgrow. Starter homes are typically on the lower end of the price range since they're smaller and more modest. This can include new construction entry-level homes, older resale homes, and fixer-uppers. Most homes in this category don't typically have most dream features homebuyers may someday want but meet the basic needs many homeowners have. Most buyers purchase a starter home with the intention of moving up to a bigger, more expensive, and better-located home.
Starter homes are a great entry into homeownership. They tend to be less expensive so they allow homebuyers to buy sooner than waiting to afford a forever home. They are a good option if you're not quite ready to settle down but still want to build equity, which can be used to purchase a larger home in the future.
However, there are some drawbacks to starter homes. First, starter homes are meant to be outgrown so depending on your situation, you may be back in the market within a few years. Also, since starter homes tend to be older or fixer-uppers, they often need more repairs and maintenance.
What is a forever home?
A forever home is a home you plan on living in for a significant amount of time, possibly the rest of your life. Most people purchase a 'forever home' later in life once their family life and careers are more stable. While forever homes aren't necessarily luxurious, they do offer room for growth and many of the features you dream of having in your home.
Forever homes look different for each homebuyer depending on how they envision their future. That means a forever home can be a fixer-upper that's fully renovated, a new construction home with all the bells and whistles, or an older home in a desired neighborhood.
A major benefit of a forever home is knowing you'll be there for a long time. They also tend to be larger and you have the freedom of fixing it up any way you like without having to worry about pleasing potential buyers any time soon. You're also more likely to get your most desired amenities now instead of waiting and living in a more desirable neighborhood.
However, because of their larger footprints and amenities, forever homes tend to be more expensive. This means it often takes buyers longer to save for a purchase and it also takes longer to build equity.
How to choose which to buy?
How do you decide which type of home is best for you? Ultimately, it's a personal decision and depends on your personal situation and plans. However, here are some considerations to make when making your decision.
When to consider a starter home. If your future plans are more fluid, especially if you're not sure what your life will look within the next five or so years, then a starter home is a good option. Maybe you're just getting your career underway and you're not quite sure where you want to live for the next decade. Or maybe you want to quickly start building equity in your home.
When to consider a forever home. If you're more settled in life and have a clearly defined future, including knowing you want to stay in the neighborhood for a decade or more, then a forever home is your best bet. Since forever homes tend to be more expensive, you should also know that you can afford the investment.
Your first home doesn't have to be a starter home. If you're further along in your career and looking for a long-term residence, you can use take advantage of first-time homebuyer programs to purchase your new forever home.
There are a lot of factors that go into choosing between a starter home or a forever home. While there are plenty of reasons to select either one, take the time you need to figure out which path is best for your situation. That way your family will be happy in their new home.
Whether you're looking for your first home or forever home, we're here to help. FCB Homes builds new home communities in Lodi and Riverbank. Visit us online at  FCBHomes.com to learn more about our new construction homes and find your new home.