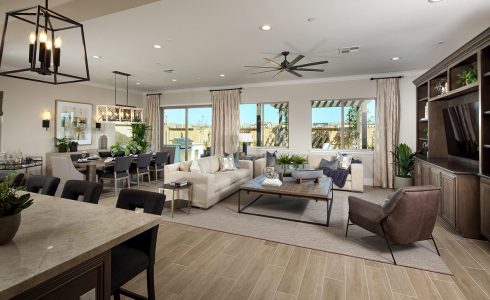 Staging Your Home to Sell
Aug 2, 2022
You want your home to look its best so potential buyers are excited to buy it. That's why many real estate agents recommend staging. Staging your home highlights its best features and allows buyers to picture themselves living there – which is key to selling.
Staging isn't required, but since not every seller takes the time to stage their home, you may have an advantage if you do. Thankfully staging your home doesn't have to be complicated or expensive. In fact, you can do it yourself! Here are some tips to stage your home like a pro.
What is staging?
Home staging prepares your home to make it look as attractive as possible to buyers to encourage a sale for the best price. Effective staging has many benefits. First (and most importantly), it creates a neutral background that allows buyers to imagine themselves in the home. It also highlights the home's best features, turns weird spaces into useable areas, and makes the home look its best in listing photos.
According to the National Association of Realtors (NAR), staging a home can potentially increase the offer price between 1% and 5% and can reduce the time the home spends on the market.
Get rid of clutter
The most essential task to a successful home staging is cleaning and decluttering. You don't want to distract prospective buyers with your stuff. Clutter can also make your space look smaller than it actually is.
Remove anything you don't need on a daily basis, including out-of-season clothing and most of your décor (more on this in a moment). This is the perfect opportunity to get rid of anything you no longer use or is broken. That will save you a step when it's time to move.
It's time to deep clean once you've decluttered and removed extra items. Make sure every surface in your home is cleaned; including often overlooked areas like window blinds, grout lines, baseboards, windowsills, and closet floors.
Depersonalize the space
The main point of staging a home is to create a neutral backdrop so buyers can visualize the space with their belongings. The quickest and most effective way to accomplish this is by removing personal photos, keepsakes, some artwork, and other personal belongings. Keep your kitchen and bathroom counters empty and remove anything that will hint toward religious or political slants.
Avoid placing your items in closets; prospective buyers will look in your closets and you don't want them to believe there isn't enough storage space. Either pack these items and neatly store them in your garage or rent a temporary storage space.
Skip the big projects
You don't have to commit to a major remodel to make your home sellable. Design preferences vary from person to person and the next buyer may end up redoing everything. So instead of trying to guess what your buyer may want, focus on smaller, more manageable "patch and repair" projects like paint touch-ups and small repairs on your "honey-do" list. Ultimately, you want to show buyers the home has been maintained over the years.
Define rooms
Define the purpose of each room or area in an open-concept space. This helps buyers understand how they can maximize the space. Turn an alcove into an office space, a junk room into a guest bedroom, and so forth. Even if the buyer doesn't use the area as you've staged it, they can see there is plenty of usable space in the home.
You don't need to stage your entire home. If you're on a tight timeline, focus your efforts on the most important areas for buyers: the living room, master bedroom, and kitchen. These rooms tend to have the most influence on buyers' decisions.
Rearrange your furniture
Sometimes rearranging the furniture is all you need to freshen your home. While your current setup may work for you, it may not work for your buyers. You want buyers to be able to easily navigate through the space.
Start by removing extra furniture; a good rule of thumb is to take out about half of your furniture in the room. This may be difficult if you're still living in the home but it will make the space look bigger. Float couches, chairs, and tables away from the walls in the center of the room and use a rug to anchor the space to create a cozy conversation area.
If your furniture has seen better days, consider using slipcovers for a quick refresh or renting needed items.
Don't forget the front yard
Most home sellers focus all their energy and attention on getting the inside of their homes perfect without thinking about the front yard. That's short-sighted since it's the first thing buyers see. Curb appeal is important for making a strong first impression. Get buyers excited to see the inside of your home by power washing the walkways, cleaning the windows, and keeping the grass and hedges neat and trim. If you have space, a couple of potted plants on your front stoop creates a welcoming atmosphere.
When potential buyers are looking at homes, they want to see themselves living there with their loved ones. Effectively staging your home with these tips will make it easier to sell your home so you can enjoy living in your new one.
If a new home is on your wish list this year, FCB Homes can help! We have new homes for sale in Lodi and Riverbank. We're looking forward to helping you find your dream home!