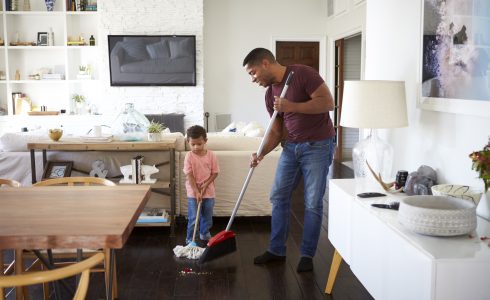 Spring Cleaning Tips to Help You Stay Motivated
Mar 24, 2020
Spring is practically here and it's time for an age-old tradition: spring cleaning. We know you don't save all of your cleaning for a specific time of year but it can still feel overwhelming. You've probably started spring cleaning motivated to get everything done only to fizzle out before you're halfway done. Don't let that happen this year!
Here are five ways you can stay motivated to finish your spring cleaning this year.
Create a cleaning plan
Proper planning is necessary for success. When you have a plan, you're less likely to get distracted. Before you start cleaning, walk through your house and identify areas that need some attention and create your priority list. Remember: you don't have to clean everything!
Make a playlist
Listening to music while working has many benefits. It increases productivity and focus while reducing stress. Harness the benefits of listing to music by putting together a playlist of fun, upbeat music to play while you're cleaning. You'll probably find cleaning doesn't feel as much of a drag and enjoy an impromptu dance party while you're at it!
Don't do it all in one day
One of the biggest mistakes we make is trying to get everything done in a day or single weekend. Instead of trying to fit everything in a short amount of time, pick a realistic amount of time you can devote to cleaning on a weekly basis and clean for that length of time.
Get the kids involved
Everyone lives in the house so everyone should pitch in to help get it organized. Get your kids involved in cleaning by assigning them age-appropriate tasks like putting away their toys and belongings. This makes them feel like part of the process and may give them more incentive to keep things clean afterward. If you know having the kids help will actually make more work for yourself, arrange to have them go to a family member or friend's house so you can clean and organize more efficiently.
Treat yourself
Keep the spirits high by rewarding yourself for a job well done. Go out to eat, pick up coffee and a treat, watch a movie, take a nice, long relaxing bath, take a nap, or buy a new item for the house. Choose an incentive that you are excited for and be sure to actually reward yourself!
Hopefully, these tips will help you feel more confident and motivated to spring clean your home this year!
Does "out with the old, in with the new" describe how you feel about your home? When you're ready to say hello to a new home, we're here to help. We have several new home communities throughout Lodi, Manteca, and Stockton. Visit us at FCBHomes.com to start your new home journey today.