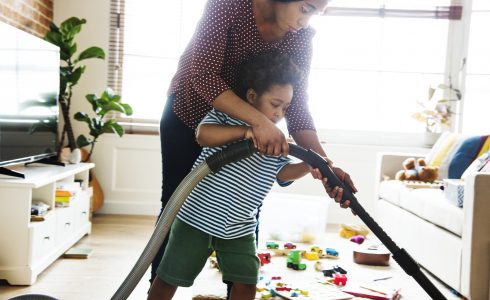 Spring Clean Your Way to Energy Efficiency
Mar 8, 2022
With spring just around the corner, it's time to shake off the gloomy winter vibes and get your home ready for a fresh new season. For many people, this means it's time for the deep spring cleaning in their homes. This can feel overwhelming at times but you're rewarded with a clean and organized home.
But did you know your regular spring cleaning tasks can lead to a more energy-efficient home as well? It's true! Here's how you can save a few dollars on your energy bills this spring and summer while getting your house cleaner.
Redirect ceiling fans
If you have a ceiling fan, now is the time to change the direction it spins. During the warmer months, you should set your fan to rotate counter-clockwise to push cooler air downwards. This means you won't need to run your air conditioning as often, saving you money on your cooling expenses. There should be a switch on your ceiling fan that allows you to change rotation direction.
Reprogram your thermostat
Adjust the settings on your thermostat to accommodate the longer days and warmer temperatures of the season. A good rule of thumb to follow is setting your air conditioner to turn on at 78 degrees Fahrenheit and your heater to kick in at 68 degrees. If you plan on being away from home for a few hours, set your thermostat to at least one degree warmer so you don't waste time (and money) cooling an empty house.
Check your HVAC system
Spring is a good time to have your HVAC system inspected to make sure the evaporator coil and filters are cleaned and in working order. A properly functioning heating and cooling system can save up to 15% of the system's energy consumption.
Don't forget to dust
Dusting is never fun but that layer of dust can make your electronics run less efficiently. Regularly dust air vents (including dryer vents), refrigerator coils, ceiling fan blades, light bulbs, power outlets, and electronics to prevent overheating.
Deep clean the fridge
The fridge can consume up to 14% of your home's electricity so improving its energy usage can make a big impact on your bills. Inspect and clean the seals around the doors to make they're working properly to keep cold air from escaping. It's a good idea to go through your fridge and toss anything you're not using. Try to keep your fridge two-thirds full for the best circulation and energy efficiency.
Check your doors and windows
Inspect the seal on the windows and door openings to make sure they're clean and in working order. Dirt and grime can reduce the door or window's sealability to trap cooler air inside and keep your home cooler during the warmer months.
Reward yourself for spring cleaning your home by doubling up on the benefits. Not only will you get to enjoy a cleaner home, but you can save energy (and money) at the same time.
Are you ready to say hello to a new home? We're here to help! We have several new home communities throughout Lodi and Riverbank. Visit us at FCBHomes.com to start your new home journey today.