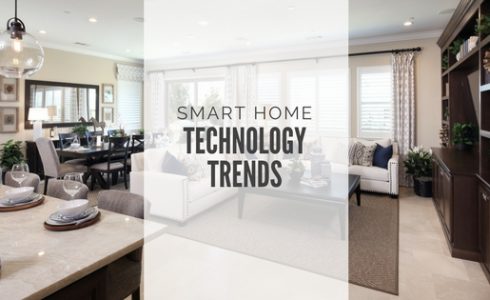 Smart Home Technology Trends
Aug 23, 2017
Technology continues to evolve at breakneck speeds: from robot vacuums to app-controlled lights, our homes are getting smarter by the second. Today's smart home technology promises to make your home more comfortable, convenient, and secure to give you peace of mind from anywhere.
Here are a few ways smart home tech can help improve your home:
Connected Climate Control
Smart thermostats are an easy way to wade into smart home technology. These new models are typically more advanced and easier to set up than regular programmable thermostats. Smart thermostats help reduce energy consumption (and bills!) by learning your habits and preferences. They can sense when someone is home and adjust the temperature as needed. They also allow the homeowners to easily create custom schedules to raise or lower the temperatures throughout the day. Did you forget to turn off the A/C before you left home? You don't have to worry about cooling an empty house; you can now turn it off right from your smartphone.
Smart Lighting Systems
New smart lighting systems can make your home feel warm and welcoming without the extra electricity costs. Like connected thermostats, smart lighting systems and light bulbs allows homeowners to reduce their energy consumption and save money. A big perk of smart lighting systems is the ability to control them remotely, schedule them to turn on at specific times and adjust brightness for different ambiances.
Home Security
Home security is one of the most-sought after technology products. Smart home security systems allow homeowners to increase the safety of their families by allowing them to monitor activity in and around the home through connected home monitoring kits and cameras, doorbell cameras, automated door locks, smart garage doors, and audible alarms for doors, window and motion sensors.
Smart Appliances and Electronics
Even our appliances and televisions are getting smarter. Smart appliances offer more control over how your food is prepared and stored, from smarter coffee machines that allow you to adjust everything from the bean grind, temperature, strength and when it's ready to refrigerators that tell you whether you need to buy more milk. Smart entertainment devices like televisions enable you to manage your child's screen time and easily stream tv shows and movies onto your television.
Voice-Controlled Home Assistants
Voice-controlled assistants like Amazon Echo, Google Home or Apple HomeKit, work with other smart devices within the home to create a command center that can be controlled by voice.
Smart home technology continues to grow more sophisticated and popular. Automating your home can help make your life easier and can potentially increase your home's resale value in the future.