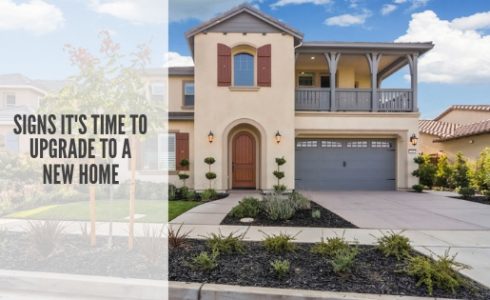 Signs it's Time to Upgrade Your Home
Apr 16, 2019
You may have been in your home for a while and still adore your place. However, you're starting to realize that your home is now less than perfect. Even if your home didn't exactly tick off all your wants when you first purchased it, your lifestyle has most likely changed since you first moved in. New jobs, kids, even a new hobby can affect how you fit in your home!
If you've been going back and forth on whether now is the time to look for a new home, check out these top signs it's time to upgrade to a new home.
Your family has gotten larger
One of the most common signs that its time to upgrade your home is realizing your current home has become too small for your family's needs. The cozy two-bedroom starter home you purchased is now bursting at the seams after the addition of children, aging parents, and/or pets.
Your ideal neighborhood needs have changed
Sometimes you simply outgrow your neighborhood. Lifestyle changes can affect how you feel about your neighborhood and can sometimes means it is time for a new house in a better-fitting neighborhood. Did you get a new job with a longer commute? Looking for a home near a preferred school for your kids? Or hoping to move closer to family?
Likewise, sometimes it's the neighborhood that's changed. If you've found your current neighborhood has started attract people with a different lifestyle (like single, young adults versus families) or has begun to decline, it might be a good idea to move. Things change and that's okay! If your neighborhood is no longer serving you, it's okay to make the move to a new home.
Simple fixes aren't enough
In the beginning you've been able to make due with your home's shortcomings with simple DIY projects to increase storage, update a bathroom or give your kitchen a refresh. But you now realize that you'll need more extensive work to renovate or upgrade your home to your needs or you're just tired of constantly having to repair something. Or you're looking for newer features that aren't in your current home. All these are great reasons to take a step back and think about starting fresh.
You can afford it
Simply put, you can comfortably afford a new home and its associated costs. Maybe you've gotten a promotion and higher salary or your current home has increased in value (which you can apply towards a new home).
Either way, just be sure to consider more than just the monthly mortgage payment. A larger home means additional costs like home insurance, property taxes, and utilities and home maintenance. You may also need to buy new furniture as well.
If any of these signs resonate with you, it's worth considering if its time for you to find a new dream home that better suits your needs and desires.
When you're ready to explore your homebuying options, visit us at FCBHomes.com to view our new home communities in Lodi, Manteca, and Stockton. Your new home awaits!