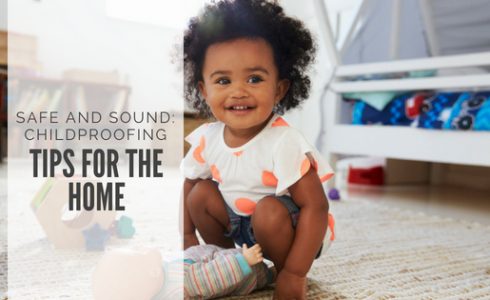 Safe and Sound: Childproofing Tips for the Home
Aug 7, 2018
Knowledge is power, especially when it comes to keeping your children safe. While you may have a system in place when you're away from the house, it's easy to be a bit more relaxed when you're at home. It can sometimes be surprising just how easy it is for kids to get into some form of trouble at home, so taking the time to childproof your home is important!
Here are some childproofing steps and safety measures to take to keep your family safe at home:
Nursery and Bedrooms
Refrain from hanging photos, pictures or shelves above the crib or bed
Keep cribs and beds away from windows (and consider installing window guards) and other furniture
Adjust or remove cords from window coverings
Remove mobiles or anything hanging above the crib when baby is able to stand
Secure large furniture, like dressers and bookcases, to the wall and place heavier items on the lower shelves
Install electrical outlet and door knob covers
Use toy chests without lids, or very light, removable ones
Bathroom
Keep the toilet lid down or use a toilet lid lock
Keep soaps, toothpaste, razors and other toiletries out of reach
Lock medicines, supplements, and cleaners away and install cabinet locks
Place soft covers on faucets and knobs
Put non-slip mats in and next to the tub
Unplug hot items (like curling irons) and store when not in use
Living Areas
Keep houseplants out of reach of young children
Add corner protectors to sharp-edged furniture
Secure large furniture to the wall and place heavier items on the lower shelves
Anchor televisions to the wall and hide visible cords
Remove blinds with looped cords or adjust cords so they're out of reach
Use safety gats at the top and bottom of stairs
Keep children away from fireplaces
Install electrical outlet covers
Kitchen
Install door, cabinet, and appliances locks
Store cleaning supplies, cooking oils, and plastic bags out of reach
Turn pot handles towards the wall
Place hot food and drinks away from the edges of tables and counters
Place lockable covers on garbage cans or in latched cabinets
Unplug and store small appliances when not in use
Keep pet food out of reach
Around the home
Check the batteries of smoke and carbon monoxide detector in every room of the house
Close doors of rooms you want to limit access
Put non-slip pads under all rugs
Make sure backyard fences are sturdy and lock securely
Keep yard tools locked away
Childproofing your home should start as soon as possible since children grow and develop at different rates. You'll rest easier knowing that you've taken care of these larger items, but remember: nothing replaces good old fashioned adult supervision!