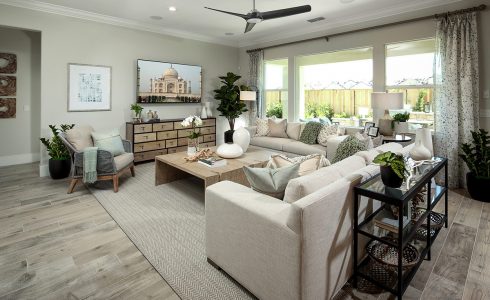 Revamp Your Living Room
May 10, 2022
We spend a lot of time in the living room so wanting to give it a quick refresh can be just the thing you need to fall back in love with your space. Use these ideas to update your living room without investing in a major remodel.
Contain clutter
Sometimes the biggest impact can come from the simplest of changes. A lot of life happens in our living rooms and they can quickly become filled with stuff. Start by decluttering and removing everything that doesn't belong in the living room. Donate anything you no longer need or want and toss broken items. This can create space and make your room feel more open.
Rearrange the furniture
The most cost-effective way to revamp your living room is to simply rearrange the furniture. Look around your space and choose a new focal point to center your furniture around. A new layout can make your living room feel completely new even when using pieces you already own. Experiment with different arrangements to find what works best for the space and your family.
If you have the budget, buying new furniture is an obvious way to freshen your space, especially if your new theme is a complete change from your current design aesthetic. If a completely new set isn't quite in the budget just yet, consider reupholstering the fabric or buying new slipcovers. Buying a few select new pieces is another solid option.
Swap out accessories
Décor pieces can tie a room together and updating them doesn't have to be expensive. Swap out textiles like throw blankets, pillows, and rugs. Change artwork and photographs. You can even shop your home and bring in items from other rooms. This will give your living room an updated look without much effort.
Update the lighting
Lighting is key to setting a vibe of a room. Start by letting in as much natural light as possible. This can be done by swapping out heavy curtains for lighter fabrics and blinds. Next, update the light bulbs to LED or CFL bulbs. They can be a bit more expensive than traditional light bulbs but they're brighter, are more energy-efficient, and last longer. A win-win-win! Changing the lampshades is another option for updating the space and changing the mood.
Sometimes all you need to do to make your home feel more current and comfortable are a few small changes. These simple updates can be done in a weekend without a big financial investment.
If you're in the market for a new construction home, we can help. We have new home communities in Lodi and Riverbank filled with beautiful new homes and a strong sense of community. Visit us online at FCBHomes.com to start your journey to finding your new home.