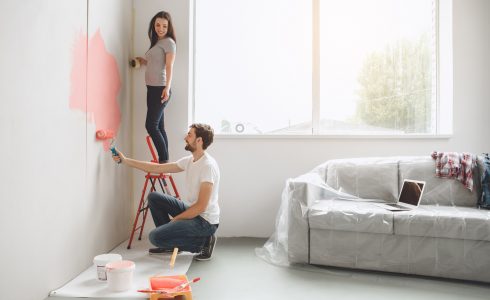 Prepare Your Home for Fall: Home Maintenance Tips
Sep 6, 2022
You've survived summer and now it's time to make sure your FCB home is ready for fall and winter. While we don't need to worry about extremely cold weather here in the Central Valley, it's still a good idea to take the time to prepare your home for the cooler months. Here are some seasonal tasks you'll want to take care of this fall.
Inspect heating system: As the temperatures start to drop as we head into the '-ber' months, have your heating system inspected to make sure everything is in working order. You definitely don't want to be left in the cold later!
Replace filters: The HVAC filters should be changed at least twice a year, so if you changed them in the spring, fall is the perfect time for the next scheduled replacement. This is also a good time to consider having the ducts and ventilation devices cleaned and inspected as well.
Clean humidifiers: While you're replacing your HVAC filters, take the time to clean your humidifier if you use them.
Check smoke detectors: If you haven't done so already, check your home's smoke detectors to make sure they're working properly, including the batteries.
Change the direction of ceiling fans: During the fall and winter months, ceiling fans should be set to turn clockwise so they redistribute the warmer air that rises to the ceiling.
Check fire extinguishers: Check your fire extinguishers each month to make sure they're ready to use in the event of an emergency. When checking your fire extinguishers, make sure to:
Inspect the seals to make sure they are intact
Check the pressure gauge
Look for visible signs of damage (corrosion, leakage, or a clogged nozzle)
Make sure the extinguisher is in an easily accessible location
Record your inspection!
Check for leaks: This applies to both water and air leaks. Leaks can undermine your home's structural integrity, make the environment uncomfortable, and increase your utility bills. Carefully check for leaks around windows, doors, toilets, under sinks, and around the dishwasher. Replace worn weather stripping around doors and windows and seal any gaps with caulk.
Check the roof: Make it a habit to regularly inspect your roof for broken or missing shingles and remove any debris or leaves. This will allow you to catch any potential issues before they become expensive headaches.
Inspect and clean your home's exterior: Walk around your home and check the windows and siding to make sure everything is tightly sealed and clean. If your home's siding could use some cleaning, you can use mild soap and water, a brush, and a garden hose to clean it yourself, or hire a professional to pressure wash the siding.
Check out our home maintenance guide on our website to review other maintenance tasks you should be doing to keep your FCB home in top condition or submit a service request.
Visit us online at FCBHomes.com to learn more about our new home communities in Lodi and Riverbank, view our home designs, and more. We look forward to welcoming you home.