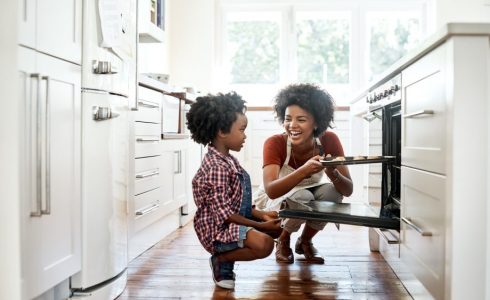 Popular New Home Features Families Want
May 18, 2021
There's a home for every family. So how do you find the right home for your family? It may feel overwhelming at times, especially when you need certain features in your new home, but we promise you will find the right home for your family!
Over the years of building homes in the Central Valley, we noticed some specific features and amenities kept coming up when families were looking for a new home. Here's a roundup of the most common features families want in their new homes.
Open floor plans
Open floor plans remain one of the most popular features for families. The open sightlines allow parents to keep an eye on younger children or connection with older kids while working or cooking in the kitchen. Open floor plans allow the family to remain connected even if they're in different areas. The free-flowing floor plan allows each room to seamlessly flow into the next, making it ideal for entertaining family and friends.
Large kitchens
Kitchens are the center of the family home and often serve as an informal gathering place. A lot of life happens in our kitchens. A sizable kitchen allows families to get together without feeling cramped. Kitchens with an island or peninsula or an eat-in dining area offer plenty of room for multitasking homework help and preparing meals.
Multiple bathrooms
Most families have multiple bathrooms high on their list of must-haves in their new homes. Having to wait for your turn to use the bathroom in the morning can be frustrating, especially when everyone is getting ready at the same time. Most families want at least two bathrooms in their homes; one in the master bedroom suite for the parents and one the kids can share. Powder rooms are welcomed bonuses!
Centrally-located laundry rooms
Sometimes it feels like all you do is laundry when you have kids. How do they go through so many clothes? Having a laundry room close to the bedrooms has been a game-changer for families. It's easier to transport clothes to and from the laundry room – and if it's on the second floor with the rest of the bedrooms, you don't have to lug endless loads up and down the stairs! Now if only we could promise their clothes will actually get put into their clean closets or dressers.
Storage, storage, storage
Kids come with a lot of stuff and families need a place to put it all. Built-in storage is popular with families since it lessens the dangers typical of freestanding storage like dressers and bookshelves. Having plenty of storage helps families keep the clutter to a minimum.
Outdoor space
Having a fenced-in outdoor space that's safe for kids to play in is a major win. It gives kids a safe space to spend outside they can explore and let their imaginations run wild. Look for a home that allows open sightlines from the living areas to the backyard so you can still keep an eye on your kids while you're inside.
Community amenities
Families are also looking for community amenities like top school districts, parks and playgrounds, community centers, pools, and more that are close to the home (bonus points if they're within walking distance). Having these community amenities nearby keep kids active and gives them another option for another play space.
Each family has unique needs but these top features have been ones many families want in their new homes. Are you ready to buy a new home for your family? FCB homes are filled with the most popular features families want and love. We build homes in desirable neighborhoods in the Central Valley. Visit us online to learn more about our new home communities in Lodi and Riverbank.