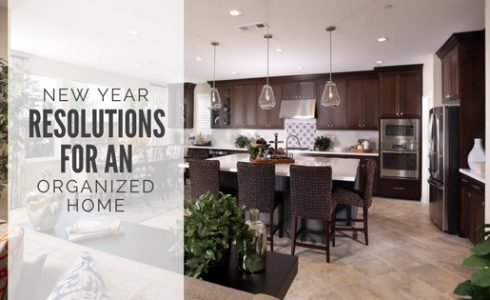 New Year Resolutions for an Organized Home
Jan 30, 2018
The start of a new year is a great time to get your home in shape. After the holiday rush, we're often left looking at our house wondering what exactly happened. Here are 4 steps you can take to get your home ready to take on a new year.
Clean in Stages
Instead of tackling the entire house at once, clean your home in stages. Start with the high-traffic rooms (like the kitchen, bathrooms, and living areas) before moving on to other parts of the home. Also, feel free to space this task out over several weeks! You don't have to get everything done in a single weekend.
Purge your Space (and Donate)
Ahh, decluttering. It's hard to get organized without decluttering first. It's a necessary step but it doesn't have to be a drag. Use the same method as how you cleaned the house: break out the decluttering into stages. Walk through each room and figure out which items you use regularly and which ones you could probably get by without. This process takes time but it also improves the chances that you'll actually complete the task without resulting into tears.
Now that you know which items will be staying and which will be leaving, go through your 'Toss' pile and set aside anything that is in good condition to donate.
Organize
You've cleaned and downsized your stuff and now it's finally time to start organizing! Measure the spaces you'll be using storage containers in before heading to the store so you know they will fit. The thrill of buying coordinated storage containers is real but you don't have to spend all your cash. Frequent your area home goods store to find affordable storage items.
Treat Yourself
You've done the heavy lifting and packing and now you can enjoy your newly clean and organized home. Now give yourself some treats that will brighten your day and help keep your home feeling fresh. It can be something small like fresh flowers to something larger like new art.