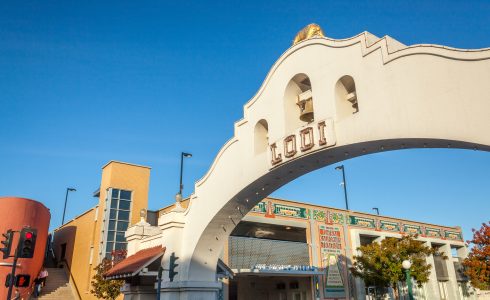 New Lodi home project first in years
Oct 22, 2014
LODI — Construction on Lodi's first new home development in years — a decade according to the developer — is well under way on the 230-home Rose Gate project at Lodi Avenue and Lower Sacramento Road.
Tom Doucette, president of Stockton-based developer FCB Homes, said Tuesday that the improving economy and dwindling supply of existing homes contributed to the decision begin construction on the 50-acre site.
"In Lodi, inventory is pretty low," he said. "We think demand is good, demand is going to be strong."
City Manager Steve Schwabauer, said Lodi has seen only scattered new-home construction, five to 7 houses per year, since 2009.
"It is a game changer for us, in terms of home construction, no doubt about it," he said Tuesday of the project. "Our first real subdivision in at least six years or seven years."
John Beckman, executive officer of the Building Industry Association of the Greater Valley, said city officials also helped spark the project by sharply cutting development fees last year.
"They did that because they recognized they needed to get some more housing built in Lodi," he said. "The builders responded by going out there and moving dirt to prepare some new housing."
Plans call for construction of three distinct "residential villages" in a range of sizes and designs, all built around the 5-acre Rose Gate Park, which includes a large playfield, children's playground equipment, a picnic pavilion, park benches and a lighted perimeter path.
The developer also plans to build 12 model homes of the three home lines.
FCB Homes said its Jubilee Series will feature four one- and two-story floor plans, ranging in size from 1,946 to 2,876 square feet. The Artistry Series, also four plans with both one and two-stories, ranges from 1,946 to more than 3,700 square feet in size. Finally, the Celebration Series will include four single-story and two two-story floor plans, running from 2,200 to more than 3,700 square feet.
The installation of the project's underground infrastructure is almost completed. Sidewalks are being installed and street paving, park construction, perimeter fencing and decorative street lights are scheduled to be completed by year's end.
Doucette said sales on the Jubilee Series is expected to begin after the new year, with the other designs being offered in quick succession later in January and in February. The first model homes are slated to open in late spring.
FCB also has plans to eventually develop another 100 acres, adjacent to Rose Gate, but are south of Lodi Avenue and west of the Raley's shopping center.
FCB Homes has built homes in the Central Valley for more than 25 years, primarily in San Joaquin and Stanislaus counties, including about 800 homes in Lodi and 500 in Stockton.
"We've been very active in this part of the county," Doucette said.
Currently, it also is developing the Westport project in Oakdale.
By Reed Fujii
Record Staff Writer
http://www.recordnet.com