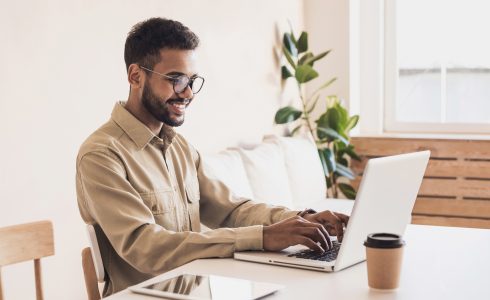 Make Your Home Office Work for You
Dec 7, 2021
There are plenty of benefits to working from home: improved work-life balance, no commute, saving money on gas and car maintenance and meals, and the freedom to create a space that works best for you.
It takes a lot of self-motivation and dedication to remain on task during the workday but by setting up your home office with productivity in mind, you can be just as productive, if not more, at home as you were in the office. Here are a few tips to make sure working from home is as productive as working in the office.
Claim a dedicated space
Find a space in your home that works for you. It can be a desk in the corner of your bedroom or living room or if you're fortunate enough to have an extra room or dedicated den. Setting aside a dedicated area to work helps your brain transition from "home mode" to "work mode" and vice versa when it's time to get some work done.
Once you've chosen an area to work from, stick with it. The longer you use that one space, instead of floating around your house, the easier you'll slip into a more productive mood when it's time to get some work done.
Good lighting is essential
You'll want as much natural daylight as possible. Natural light has a lot of health benefits. It tends to be easier on your eyes and helps boost productivity. If your workspace lacks adequate natural light, you can supplement what you have with full-spectrum bulbs in your general and task lighting. Task lights are essential for late-night work sessions or cloudy days. Look for daylight bulbs to replicate natural daylight. 
Prioritize ergonomics
The goal of ergonomics is to create a workspace that increases efficiency and productivity while decreasing discomfort. Here are the areas you'll want to prioritize in your office:
Desk height: your elbow should be at the same height as your keyword or work surface. Ideally, you want to be able to sit with a straight posture with your elbows at a 90-degree angle. Your shoulders should also be relaxed and your feet on the ground. Adjustable desks are great to find a desk that fits.
Office chair: look for a chair that provides adequate lower back support, has a comfortable seat cushion, and supports your arms at the proper height. If you don't have a proper work chair, you can make your current chair more comfortable by adding a lumbar pillow, seat cushion, or footrest.
Monitor height: you'll want to make sure the top of your monitor is at eye level or a little below.
Mouse/keyboard placement: ideally your mouse and keyboard should be close together. You'll also want your wrists to rest comfortably on your desk without having to strain to reach the keys.
Reduce distractions
You're still working even though you're working from home. Remove or reduce distractions as much as possible. Set up clear boundaries with family so they know when it's okay to distract you and when you need to be left alone.
Whether you're working from home full-time in the den or just a few hours a week in a nook in your kitchen, you'll want to make sure your workspace is comfortable and efficient. This will make your work hours more productive.
Looking for a new home with enough room for a home office? We have several plans that include a den that could be your new dream workspace. Visit us online at FCBHomes.com to learn more about our new home communities in Lodi and Riverbank, view our home designs, and more. We look forward to welcoming you home.