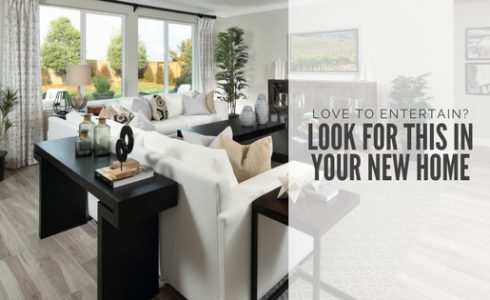 Love to Entertain? Look for This in your New Home
Sep 20, 2017
Between birthdays, weddings, graduations, holidays and Friday nights without the kids, there's always something worth celebrating with family and friends. If you love to entertain (or are looking to entertain more), there are specific attributes you'll want to look for in your new home.
If you're looking for the perfect home to host family gatherings, look out for the following features:
Welcoming Entry
Welcoming guests into your home is much easier when the foyer is spacious enough to easily usher guests into the home and provides good lighting. Add a couple of bonus points if the entryway is covered.
Inside, the foyer doesn't need to be perfectly styled to present a welcoming feel. Keep it simple with a have an easily-accessible closet nearby (or coat rack) to store guests' jackets.
Entertaining-friendly floorplans
Open-floorplans are made for entertaining because they encourage mingling throughout the home. Take note of the size of the living areas, or great room, to see where you can create additional seating areas.
If you prefer a more traditional floorplan, consider where the entertaining spaces are located and how each room flows into the next. Love to host cozy sit-down dinners? Look for a home with a formal dining room with distinctive design features with enough room to fit your dining furniture.
Flexible Spaces
The key to successful entertaining is creating several areas for guests to move through and congregate. As you're touring new homes, figure out how you can create flexing seating options to fit different sized groups or if there are additional rooms that can be used for entertaining as well. Kitchen islands are great for creating seating options while also providing additional prep and display space.
Powder Rooms
While powder rooms (or half baths) tend to be classified as a "nice to have," they make entertaining at home easier by providing a dedicated bathroom for guests. No need to worry about cleaning up your main bathroom or having guests wander into your private rooms (or peeking through your medicine cabinets!).
If the floorplan you're considering doesn't have a powder room, don't fret! Check to see if there is a bathroom near your entertaining areas that's easy for guests to reach.
Outdoor space
We're fortunate enough to enjoy warm weather throughout the year so outdoor entertaining is a must! Look for a home that has ample room outside to create an outdoor living or dining area (our California Rooms are perfect for that) for guests to gather when the party moves outside.
But having an entertaining-friendly backyard doesn't win many points if there isn't an easy way to access it so make sure there's a clear access point, preferably through the main living areas, so guests can freely move indoors and out and still feel connected to the party.