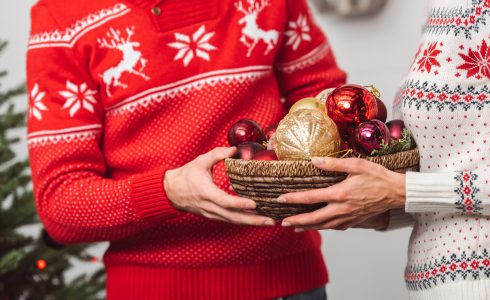 How to Safely Store and Organize Your Holiday Decorations
Dec 27, 2022
After all the hustle and bustle of the holidays, it's time to take down the tree and pack up the decorations. If you're like most people, you probably just want to throw everything into a box and forget about it until next year. But if you want your holiday decorations to stay in good condition, it's important to take a little extra time now to properly store and organize everything.
We've put together a few tips to help you safely store and organize your holiday decor so that it's ready to go next holiday season.
Get Rid of Any Broken or Damaged Ornaments
The first step in safely storing your holiday decor is to get rid of any broken or damaged items. This includes anything from cracked ornaments to worn-out strings of lights. Not only will this make it easier to find the perfect spot for everything when you go to put it away, but it will also save you from having to deal with broken decorations next year. This is also a good time to clear out any old ornaments or decorations you no longer want. Keep only what you love and will actually use next year.
Categorize your decorations
There are two main ways to organize your holiday decorations: by type or by room. You can group like items together — all the candles, wreaths, snowmen, etc. The second way is categorizing by room, which is especially helpful if you decorate your home the same way each year. This categorization option means you'll have a storage container for each room with all the decorations you use. This saves you time trying to remember which item goes where when it's time to decorate again.
Invest in Storage Bins Designed for Holiday Decorations
Once you've sorted through your decor and gotten rid of anything that's damaged or no longer wanted, it's time to start looking for storage solutions. Using the original packaging is a cost-effective way to safely store your ornaments. If you plan on keeping your holiday decorations for years to come or the original packaging has seen better days, it's worth investing in storage bins that are specifically designed for such items. These bins are typically made from durable materials like plastic or canvas and have features like labels and dividers to help keep everything organized. Lights can be wrapped around cardboard tubes or wrapped in bags so they don't get tangled. Wreaths can be hung on hooks or stored in large plastic bags.
When packing ornament hooks and other small pieces, zip-top bags or small plastic containers with dividers help prevent these delicate items from getting lost or damaged.
Store Fragile Items Separately
If you have any particularly delicate or fragile holiday decorations, it's important to store them separately from the rest of your collection. The last thing you want is for a fragile ornament to get broken because it was stored next to a heavier item. Wrapping each fragile item individually in tissue paper or bubble wrap will help keep them safe during storage.
Label Everything
Labeling is key when it comes to storing holiday decor. You want to be able to find everything easily next year, so take the time to label all your storage containers. You can use permanent markers or labels to make sure everything is clearly marked. And if you're really organized, you can even take pictures of how everything is stored so you can easily replicate it next year.
Find a Good Place to Store It All
Once everything is labeled and packed away, you need to find a good place to store it all until next year. If you have a lot of decorations, you may want to consider renting a storage unit. But for the average person, the garage is a good spot. You want to make sure your designated storage area is dry, dark, and cool.
While displaying your holiday decorations all year long isn't always possible, with just a little bit of planning, these simple tips will make sure your holiday decor is ready to go next season.
Celebrate the next holiday season in a new FCB home. We have homes for sale in Lodi or Riverbank. Visit us online at FCBHomes.com to learn about our new home communities, home designs, and more.