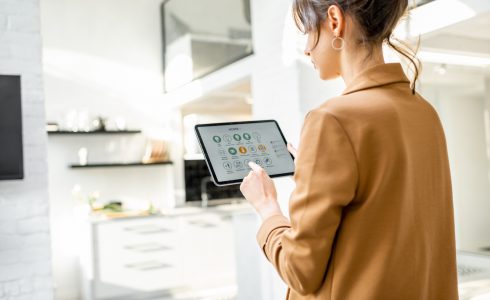 How to Make Your House a Smart Home
Nov 2, 2021
What was once a dream is now a reality thanks to smart home technology. While we still don't have robot maids to handle all of the household chores, we do have robot vacuums! The possibilities are almost endless when it comes to creating your dream smart home. But where and how do you start?
Thankfully you don't need to spend a fortune to turn your home into a smart home. Here's a guide to creating a smart home on any budget.
Make sure your WiFi is strong
Smart home technology is only as good as the internet network they're connected to. To get the most out of your smart devices, audit your home's wireless internet connection. If it's lacking in some areas, consider using signal boosters or WiFi extenders to improve connectivity.
Choose a system
Before you begin shopping for devices, decide which smart system you want to use. The main three smart platforms are Amazon Alexa, Google Nest, and Apple HomeKit. There are also other platforms like Bixby or Microsoft Cortana. Once you've chosen your ecosystem, you can begin choosing your devices. You'll want to make sure your smart devices are compatible.
You can control your device through your smartphone, smart assistant, or smart hub. Smart hubs connect all of your devices together, allowing you to control them from a central location. However, a smart home hub isn't required; you can build an effective smart home without a central hub. In this instance, you'll use individual apps on your phone to control your devices. If you go the hub-less route, choose smart home products that are compatible with each other and don't depend on a hub to work.
Choose your devices
The beauty of creating your own smart home is its flexibility for growth. You can always fully automate your home from the start if you know how smart technology can fit your lifestyle. If you're not sure how useful some devices can be, you can start with a few select devices and add more as you become comfortable and identify new needs.
There are some key areas that smart home devices are available for:
Lighting
Smart lights are a common entry point into smart home technology because they're affordable and easy to set up. Smart bulbs look like regular light bulbs and fit standard sockets. You can choose between smart bulbs or smart switches with regular bulbs. Either option lets you control individual or groups of lights from a smartphone app or home assistant. Some smart bulbs allow you to adjust the brightness or color. You can also create a schedule for your lights to turn on and off. This ability is helpful by making your home look occupied even when you're away.
Security
This includes cameras, doorbells, locks, security alarm systems, smoke and carbon monoxide detectors, and CCTV. These devices allow you to monitor and secure your home remotely. Many devices will send you notifications when they're used, letting you monitor your home whether you're at home or away.
Power
This category includes smart plugs and switches. These devices allow you to enjoy the benefits of smart home technology, like remote control and scheduling, with your current appliances, whether they're smart or not. 
Energy
Smart thermostats commonly fall under this category, allowing you to control the temperature of your home and enjoy cost and energy savings. Not only are you able to create a heating/cooling schedule but these devices can also detect whether you're home or away and operate your system accordingly.  
There are more devices, including smart appliances, multi0room audio systems, and even irrigation systems, that are available as well.
Secure your home network
Unfortunately, anything that uses a WiFi connection can be hacked. Keep your home network protected with a strong, unique password and on a private network, and use two-factor authentication. Always change your default usernames and passwords that are assigned to your devices and avoid reusing passwords. Password managers are a great way to keep track of individual passwords. Some devices also let you create guest access so visitors can connect without sharing your password.
With the latest and greatest in smart home technology, your new FCB home will be both beautiful and brilliant. We offer a variety of automated solutions to help you save both energy and money including Ecobee 5 WiFi thermostat, GE WiFi appliances, Kohler Sensate touchless faucet, keyless entry, Alula security system, and an electric car charger. Please see our sales associates to learn more about available packages.
For more information on new FCB homes for sale in Lodi or Riverbank, visit us online at FCBHomes.com to learn about our new home communities, home designs, and more. We look forward to welcoming you home!