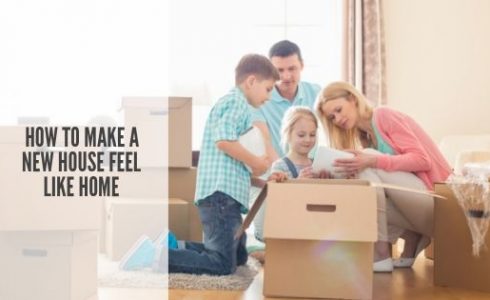 How to Make a New House Feel Like Home
Sep 3, 2019
Buying and moving into a new home can be a chaotic moment of time. There's plenty of things to coordinate and manage to make sure the move-in goes smoothly. But what do you do once the movers have left and you're surrounded by boxes and you have the place to yourself?
Making a new house feel like your home can feel daunting but it's much easier than you think! Here are some tips to make that transition happen.
Don't put off unpacking
What's worse than packing? Unpacking. While it's tempting to take your time with unpacking, the sooner you're able to unpack and get rid of the moving boxes, the sooner you'll start feeling more settled in your new home.
Recreate familiar sights
Moving into a new home can be a jarring experience after being in a home filled with your belongings. Ease that transition by filling your home with your favorite personal items like family photos, artwork, and other memorabilia to add a personal touch to your new home.
Resume your regular routine
Don't let moving knock you off your regular routine. This is especially true if you have children. Kids thrive on routine and getting them back to their usual schedule as quickly as possible will help them adjust to the change in location. By showing them that you're back to your normal routine, you show that this new transition is just a regular part of life, like going to school.
Get to know your new neighborhood
Get acquainted with your new neighborhood and neighbors! Start by introducing yourself (even a simple 'Hello!' is a great start) and getting familiar with the new sights and sounds. Take time to find the grocery store, park and everything else you'll need.
Host guests when ready
A surefire way to feel like you're at home is hosting your family and friends in your new place. A get-together, whether a full-blown housewarming party or just a casual gathering, is a great way to make your house feel more like your home.
These super simple tips will turn that new house into your new home that you'll enjoy for years to come. When you're ready for a new home, visit us online at FCBHomes.com and discover our new home communities in Lodi, Stockton and Manteca.