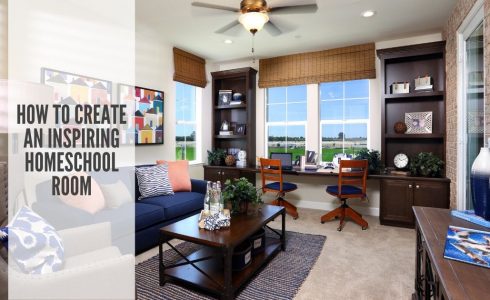 How to Create an Inspiring Homeschool Room
Feb 25, 2020
Homeschooling can be incredibly rewarding for both kids and parents. Many homeschooling parents feel overwhelmed trying to figure out how to create an inspiring homeschool space.
If you're new to homeschooling or are redesigning your at-home learning space, here are some tips to use as you set everything up. Even if you don't homeschool, you can use these tips to create an inspiring homework area!
Decide on the right spot
Most people prefer to have a dedicated for homeschooling. Having a dedicated room allows you to completely customize the classroom to best support your students' learning styles. You can also create a more traditional classroom with a chalk or dry erase board, learning stations, and decorations.
If you don't have extra space available, setting up class in the kitchen or dining room is a great option. Just choose a space that doesn't have too many distractions.
One of the perks of homeschooling is the ability to take the classroom outside for more hands-on lessons or to enjoy nice weather. When moving class outdoors, set up a table and chairs for schoolwork or a comfy nook for reading.
Organization is key
Whether you have a dedicated room or using a multi-purpose space like the kitchen or dining room, proper organization is important to homeschooling success. Place a cabinet or bookshelf close to your work area to keep books and supplies within easy reach. This will also keep your classroom area clean, especially helpful if you're holding class in a common room.
Prioritize comfort
No one likes sitting in an uncomfortable seat. Choose a comfortable chair your student doesn't mind sitting in for extended periods of time. If you find your students to be extra fidgety, consider offering alternative seating options in addition to the traditional desk chair like bean bags, yoga balls, or pillows.
Ask your student
As you decide how to set up your learning space, be sure to consult with your students on what features they would find most helpful. Be flexible as you figure out what works best for you and your student.
Setting up a homeschool classroom will go a long way in creating a happy and engaging learning environment for you and your students. These tips will enable you to create a learning space that can evolve as your students grow.