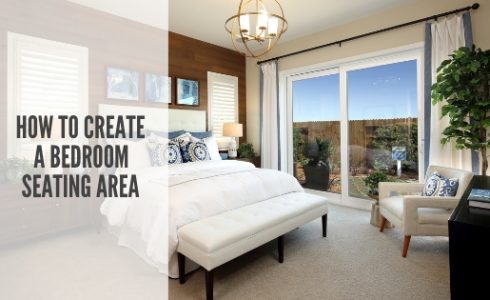 How to Create A Bedroom Seating Area
Mar 5, 2019
Your bedroom is more than just a place to sleep; it's also your respite from a busy, hectic life. Creating a seating area is the ultimate luxury. It gives you a wonderful area to rest and relax after a long day when you're not quite ready to get into bed. Make the most of your bedroom space by using these tips to create your own in-room seating area.
Assess your space
Take stock of your room and decide where you have space for a sitting area. The end of the bed is a popular location for a new sitting area. A large or bay window on the side of the room can be an ideal location. If you're tight on space, consider adding a single chair in a corner.
Know your purpose
Before clearing out your room and buying new seating, determine how you want to use the new sitting area: will it be for reading? Or another space to spread out and relax that's not the bed? Will it be for storage? Or will it be just for decoration? Figuring out how you want to use your new sitting area will guide the type of furniture you'll need to look for and the layout.
Pick the best location
After assessing the space in your room, select the best location for your new seating area. Some popular areas for seating is the foot of the bed, on the side of the room (whether near a window or not), in the corner, or if space allows, at the foot of the bed and on the side.
Select your seating options
Seating options range from ottomans to cushy loveseats. You can pair a couple of ottomans or a bench at the end of the bed (if you go with a bench, look for one that's narrower than the width of the bed). You can also place a couple of chairs or a settee. Chaises and lounge chairs are great options for corner seating. Whatever pieces you choose, make sure the seating complements the bed in color, style, or fabric/material.
Scale and space pieces well
The bed should remain the focus of the room so you'll want to choose seating that fits the space you're furnishing. Too large furniture makes the room look smaller. You'll also want to make sure you have enough space to walk around the room. No one wants to stub their toe!
No matter the amount of space in your bedroom, creating a seating area is a great way to upgrade your bedroom into a suite retreat.