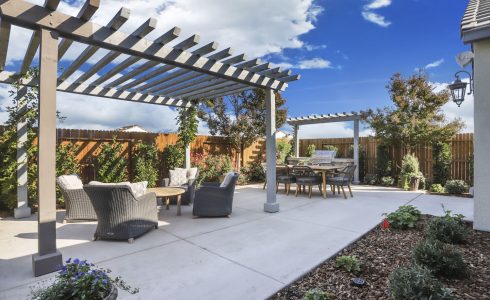 How to Clean Patio Furniture the Right Way
Aug 23, 2022
Patio furniture is the perfect way to enhance and enjoy your backyard. However, it's always disappointing coming outside only to find your furniture is dirty when you were looking forward to kicking back and relaxing outside.
Regular cleaning is key to keeping outdoor furniture looking good and ready to use when the occasion arrives. How you clean your furniture will depend on the material it's made from. Here are all the tips you need to know to clean your patio furniture and keep it looking great.
General cleaning
Before you can deep clean your outdoor furniture, start by brushing off the dust, leaves, and other debris that may have collected since you last used it, especially if you store it uncovered. You can then spray everything down with the garden hose to remove the remaining dirt or detritus.
Plastic and resin furniture
Plastic and resin are popular materials for outdoor furniture since it's inexpensive and easy to clean. You can use an all-purpose cleaner or a mixture of water and baking soda or dishwashing liquid, then rinse clean with the hose and let dry.
Wood or wicker furniture
Wood and wicker furniture can stand up to a bit more elbow grease but resist the temptation of using a power washer. High-pressured water can potentially damage the wood and maybe even remove paint. Instead, use a mild oil-based soap mixed with warm water and a soft brush or sponge to clean any stuck-on grime. Wicker furniture should be hosed down every few weeks to prevent dirt build-up in crevices.
Metal furniture
Thanks to its durability, metal furniture is a popular choice. It doesn't take much to return it to a "like new" condition; just a mixture of a mild dishwashing liquid and a sponge or brush does the trick. The important thing is keeping rust at bay. The paint or rust-resistant finish added to metal furniture does wear off over time so if you spot any rust, use steel wool to remove it or repaint.
Outdoor fabric
Outdoor fabric is durable because it's typically treated to resist mildew and fading. You have a few cleaning options for fabric. If your outdoor cushions have removable covers and are machine washable you can simply drop them into the washer. Otherwise, washing them by hand in a mixture of mild dish soap and warm water will do the trick.
Regular maintenance
Thanks to the moderate temperature in the Central Valley, your can realistically use your patio furniture year-round. You should plan on deep cleaning your furniture at least four times a year with quick touchups in between as needed. If you want to save time between cleanings, consider investing in furniture covers to protect them from the elements when not in use.
Setting up a regular cleaning schedule for your outdoor furniture to make sure it's ready when you need it. For more information on new FCB homes for sale in Lodi or Riverbank, visit us online at FCBHomes.com to learn about our new home communities, home designs, and more. We look forward to welcoming you home!