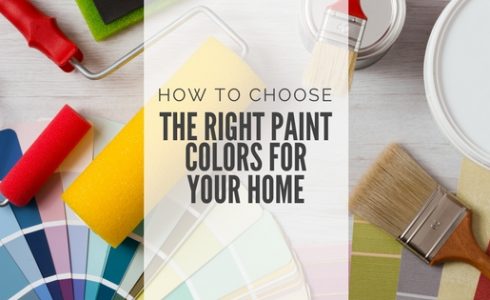 How to choose the right paint color for your home
Jun 28, 2017
Selecting paint colors for your new home can be a daunting task. With so many colors available, it's hard to know where to start. While it may be tempting (and easy!) to leave the walls white, adding some color to your walks will instantly warm a room and make it more inviting. Use these tips to help you pick the right paint color for every room of your house.
Don't pick your paint color first
It may sound a little weird, but before you start looking at paint swatches, look at your furniture and décor items that will go into your rooms. You will want to select a paint color that complements those items and not clash. If your fabric and accessories are bold in color, you may want to opt for a softer wall color for balance.
Consider the entire house
Many people forget to consider the entire house when picking a color scheme. While it can be exciting to paint each room a different color, it can create a disjointed feeling when walking from one room to the next. This is especially important in homes with an open floorplan. Select a few colors that work together (try different shades of a single color) to create a cohesive place.
Consider the mood or purpose for the room
Colors can have subtle effects on our moods so choosing the right color for a room is very important. While you may love a bold and energizing color like red or orange, painting your bedroom that color may conflict with your desire to have a relaxing and serene room to rest. A good rule of thumb to follow is to choose soft, cool colors like blues and greens if you want a more serene feeling and warmer colors, like yellows and oranges, if you want more sociable and energetic feeling.
Pay attention to lighting
Thanks to the changing strength of natural light and the effects of artificial lights, the look of your paint color may look differently at different times during the day. Also remember that there are times during the day where natural and artificial light will be working together, which will also affect how your paint colors appears. Learn more about light's effects on paint.
Don't be scared!
It may sound hard, but don't be afraid to choose your paint colors. Remember: paint is not permanent! If you find you're just not in love with your choices, you can always change it.