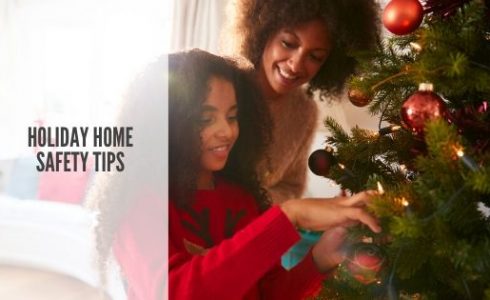 Holiday Home Safety Tips
Nov 26, 2019
There's so much to love about the holiday season: the decorations, spending time with loved ones, parties and celebrations! It's a fun time of year. It's easy to get caught up in the swirl of activities, but it's important to keep safety front of mind during this time.
To make sure you have a safe and happy holiday season, check out these quick safety tips to keep your home and family safe.
Keep any travel plans offline
If your holiday plans include traveling, refrain from discussing your travel plans on social media. Don't post where you're going and for how long. You don't want to tip off thieves. Need more tips? Check out our post on preparing for a worry-free vacation to keep your home safe while you're away.
Decorate carefully
Part of the holiday magic lies in decorations. Keep your home safe by keeping live trees away from heat sources and making sure they stay hydrated. Check your holiday lights and replace any with frayed wires, loose connections, or broken sockets.
When it's time to decorate the tree, consider placing delicate, breakable ornaments toward the top of the tree to keep them away from young children and pets. Instead, place unbreakable ones closer to the ground Turn off all lights before going to bed or leaving the house.
Hide gifts and packages
You may already keep wrapped gifts hidden away from the kids, but you'll also want to do the same from a potential thief. Reduce the risk by keeping your tree and gifts away from windows. If you love the look of a decorated tree from the front window, consider placing your gifts in another area until Christmas morning.
Play it safe with candles
Candles are the perfect décor piece to create a magical holiday glow. To keep the fire danger down, keep candles securely mounted in non-flammable bases and set away from anything flammable. As always, don't leave a lit candle unattended!
Keep treats out of reach
Keep all those delicious holiday treats out of reach of your pets, especially if they contain any chocolate!
Beware of poisonous plants
Nothing says 'holiday's more than poinsettias. Those bright red leaves are lovely but toxic when eaten. Keep your pets and small kids safe by keeping these plants out of their reach.
Have a great time decking the halls! These safety tips will help keep your family's home safe this holiday season. If you're looking for a new home, we invite you to visit us at FCBHomes.com to learn more about our new home communities in Manteca, Lodi, and Stockton. We hope you have a wonderful holiday season!