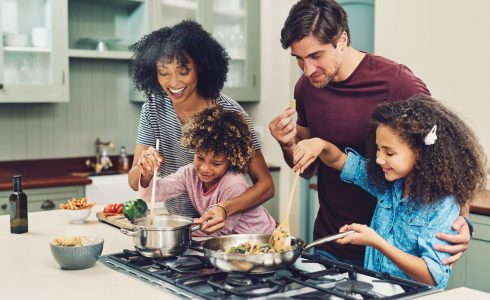 Fun Staycation Ideas for Summer
Jun 21, 2022
Summer is here and that usually means family vacations and fun weekend getaways, but if you prefer to stay a little closer to home, you may be left wondering how to keep your family entertained. While your couch may not have the same flair as a beach vacation, there's still plenty of fun you can have in your home.
Here are some fun staycation ideas your family can enjoy this summer in your FCB home.
Camp in the backyard
Can't make it to your favorite campground this summer? Pitch a tent in your backyard instead and spend the evening under the stars. You can enjoy the traditional camping activities like grilling a meal, roasting marshmallows for s'mores, adventuring in the backyard, identifying the constellations, telling spooky stories, and more. Bonus points: you can enjoy the great outdoors with all the creature comforts of home within steps.
Backyard water park
Make a splash in your backyard with a mini water park. Whether you buy a water play station or build your own, the entire family will have fun while staying cool during the hot summer weather. Kids will enjoy sliding down a water slide, throwing water balloons at each other, splashing around in a pool or just running through the sprinklers. There are plenty of great sprinkler sets, water slides, and more in stores and online.
Take a virtual trip
If you're suffering from a severe case of wanderlust, satisfy the itch to experience new places with virtual trips. Thanks to the internet, we can now go to the furthest ends of the world from the comfort of your couch. Many popular tourist destinations, museums, aquariums, zoos, and other cultural institutions are now offering free virtual tours and activities to keep you entertained. Here's a fairly comprehensive list of virtual destinations if you're looking for more virtual trip ideas.
Learn a new hobby or activity
Discover new talents and interests by trying new activities. From painting, embroidery, scrapbooking and even cooking, there's plenty of instructions and courses available online. It's a great way to keep minds and hands busy while giving everyone a sense of accomplishment as they learn a new skill.
Host a family film festival
Movie marathons are made for staycations! Pick some family favorites, gather your favorite snacks, and get comfortable as the title screens start rolling. You can elevate the experience by setting up a screening outside under the stars. All you need is a projector, a screen, media player, and speakers and you're ready to recreate the drive-in in your backyard.
With some creative thinking, you can have a summer filled with fun and memories. At FCB Homes, we would love to help your family find their new dream home this summer. We have several new home communities in Lodi and Riverbank. When you're ready, visit us online at FCBHomes.com to learn more about our new construction homes and find your new home.