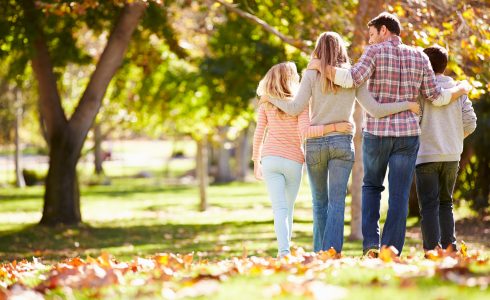 Finding a Kid-Friendly Home
Jan 18, 2022
Your home isn't just the place you sleep at night; it's the central hub for your family. It's important to find a home that is just right for your family, especially if you have children. Whether you're starting or growing a family, here are some considerations to make while finding a kid-friendly home your entire family will love.
The right size
Don't focus on just the square footage! It's not about the size of the house, but how it's laid out. Just make sure the home provides enough space for your family and your belongings. Kids take up a lot of space so look for a home that offers additional rooms for kids to hang out, like a den, playroom, or loft. This additional space can often grow and change as your children age, transforming from a playroom to a teen hangout room and eventually a guest room or hobby room once the kids move out.
This also goes for the kitchen and dining areas. Make sure these two areas offer enough room for you to prepare and serve meals. Is there enough cabinet space for storing food and dishes?
Bedroom placement
When touring homes, take note of the number, size, and placement of the bedrooms. Some parents with younger children prefer to have all the bedrooms on the same floor, with at least one of them close to the master suite. If you have older children, you may be okay with having the master suite more separated from the secondary bedrooms for a bit more privacy.
Another thing to consider is the number and size of bathrooms. Is there enough for your family? Are you okay with sharing a bathroom with your kids?
Open floor plan
Open floor plans are popular with families. Great room concepts, where the kitchen, living room, and dining room open to each other. This allows you to cook dinner while keeping an eye on your kids in the family room. The extra space gives provide enough room for the entire family to be together without feeling overcrowded.
Homes with open floorplans often include easy sightlines to the backyard, which leads to our next tip.
Outdoor space
Kids need an outdoor space to play in, whether it's in the backyard or a nearby park and playground. Having a fenced-in backyard space can provide a sense of peace knowing your kids can safely play even if you can't always keep an eye on them.
Family-friendly neighborhood
Remember: when you buy a new home, you also buy into a neighborhood. Check to see if your desired neighborhood features kid-friendly amenities like sidewalks, street lights, close proximity to schools and parks. Be sure to consider the type of street the home is on: homes on a quiet street or cul-de-sac are more desirable for families than homes on a main, busy street. Here are some family-friendly signs to look for.
Finding the right home for your family can make you feel like Goldilocks. But with a little planning, you can find the one that's just right! FCB Homes offers a variety of homes for each life stage, from young families to empty-nesters. Visit us at FCBHomes.com to learn more about our communities in Lodi and Riverbank and find your dream home in the Central Valley!