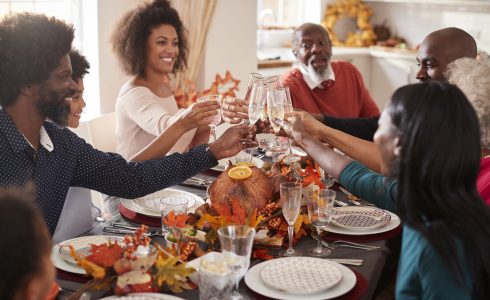 Essential Guide to Hosting Thanksgiving at Home
Nov 1, 2022
Hosting Thanksgiving is a rite of passage. It's equally exciting when it's the first big feast in your new home! With such big expectations, it's can feel daunting but don't panic! Here's everything you need to know for hosting Thanksgiving in your FCB home, whether it's your first time or you're a seasoned pro looking to improve your hosting experiences.
Make a plan
Thanksgiving isn't the type of meal that you can just 'wing it.' Knowing what you need to do and when will ensure no detail is forgotten. You should start mapping out your plans two to three weeks before the big day.
Think about the type of meal you want to host. Feel free to skip the large dinner party if that makes you feel overwhelmed. Consider how many people you can comfortably host, where you want your guests to sit, and how you'll serve the food (buffet style works best for parties of more than eight guests).
When creating a menu, stick to tried and true recipes. If you want to try something new, give it a trial run before the big day so you have time to work out any kinks. Once you've settled on your menu, begin writing out grocery lists and order the turkey or special items. You should consider dividing your shopping list into perishables and non-perishables and begin shopping for items that can be stored ahead of time. Save buying the perishables for the days leading into Thanksgiving.
Take inventory
Review your current inventory of items, like place settings and cutlery, cooking/baking utensils, bakeware, serving pieces, and chairs and tables. Make note of anything you may need to buy, borrow, or rent to round out your supply.
This also includes your pantry! Review your recipes and cross-reference your shopping list, noting anything you already have. This will keep you from having multiples of one ingredient you only use for a particular recipe.
Create a schedule
The secret to a successful Thanksgiving is time management. While a written schedule feels like overkill it'll help you keep track of all the tasks that need to be done. Consider it a recipe for the day! Working backward from the time you'd like to start eating, work out the baking times for each dish, and determine what needs to be in the oven and when.
If you purchase a frozen turkey, you'll need to calculate when you'll need to start defrosting so it's ready to go on Thanksgiving morning (plan for 24 hours in the fridge for every five pounds of turkey).
Ask (and accept) for help
Yes, you're hosting but that doesn't mean you have to do everything! Don't be afraid to ask and receive help. Recruit your family to help clean the house, run errands, post-event cleanup, and even cook.
Delegation also extends to the meal! Lean on the pros at the grocery store or bakery for appetizers and side dishes or desserts if baking is your thing. Have a guest that makes a killer recipe everyone loves? Consider asking if they would make some for the meal.
Take advantage of make-ahead dishes
Making the entire Thanksgiving meal on the day of is possible but isn't necessary. If you're able, take advantage of make-ahead dishes like dressings, casseroles, gravy, and some desserts that can be made ahead of time and warmed up the day of. This will get a lot of the side dishes off your plate (pun intended) and leave you time to focus on the star of the show.
Have fun
It's easy to forget but you should plan on having fun and enjoying yourself. After weeks of preparation and hard work, you get to spend time with your loved ones. Once the turkey is craved and served, kick back, relax, and enjoy the company.
Hosting Thanksgiving is a big endeavor, especially if it's your first time. It's easy to be overwhelmed by everything but with a proper plan in place, you will feel confident in your hosting abilities. We hope you have a great holiday!
When you're ready to start looking for your new home, visit FCBHomes.com to learn more about our new home communities in Lodi and Riverbank.