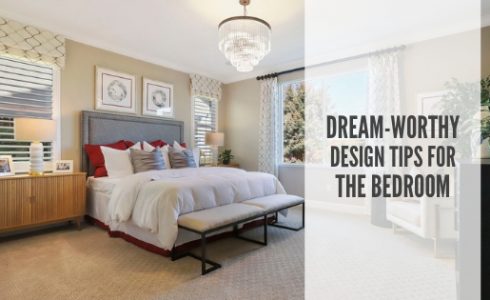 Dream-Worthy Design Tips for the Bedroom
Dec 18, 2018
After a long day, the master suite is usually the place most people look forward to coming home to. Even though the bedroom is mostly used for sleeping, that doesn't mean it has to be simply functional. After all, the bedroom is the last room you see each night and the first you see each morning!
Thanks to its private nature, the master bedroom offers the perfect opportunity to create a retreat-like space you'll enjoy being in; a place where you can relax and recharge at the end of each day. Here are the top four design tips for creating a dream bedroom you'll look forward to escaping to each day.
Start with the function
How you use the room will dictate the items you'll need to furnish. Naturally, you'll be sleeping, but think about other habits. If you like to stay up late reading, consider purchasing focused reading lights so you don't disturb a sleeping partner. If you need complete darkness (or prefer to sleep in later), spring for blackout curtains. Do you prefer to have a television in the room or need a space to work out? Take cues from your daily habits to direct how you furnish the bedroom.
Set the mood
Bedrooms are often positioned as places of relaxation and refuge from the world. But what's a "relaxing refuge" is different for every person. Consider what colors and surroundings help you relax; whether it's deep, bright colors filled with family photos and tchotchkes, or a sleek and modern room of soft neutrals that's like a hotel room.
Choose the right lighting
The bed is the most significant piece of furniture in the room, but most designers like using light fixtures to add a decorative element. Make sure of both natural and artificial light through the day. Opening the window treatments to allow the sunlight to flood the room instantly refreshes the room. Supplement the natural light with bedside tables and floor lamps. Having several light sources will allow you to maneuver the room without having to flip the switch on the overhead lights.
Take your time
Some things can't be rushed and designing your dream bedroom is one of them. It can take some time to refine a great design that fits your lifestyle. Don't rush the process! It's worth taking a little extra time in the beginning to make sure your room is the perfect fit.
The master bedroom should be a welcomed respite from the worries of the world. Thankfully, designing this retreat doesn't have to be complex! Creating a space that is both functional and beautiful is easily within reach.
FCB Homes has several communities in throughout the Central Valley. To view our new home communities, visit us at FCBHomes.com.