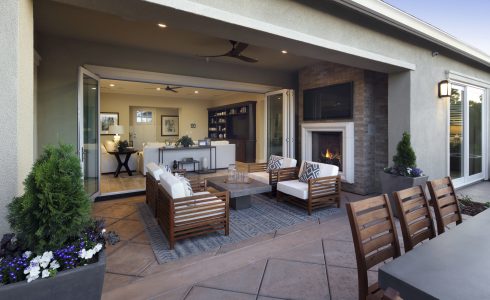 Designing Indoor-Outdoor Living Spaces
Jun 9, 2020
Indoor-outdoor living spaces continue to be a popular feature on home buyers' wish lists. Home owners love the flexibility of extending their indoor living space to an equally comfortable outdoor experience. Now that the weather is starting to warm, having the flexibility of moving outside is a major plus.  
Here are some design tips to create a seamlessly designed indoor-outdoor living space in your FCB home.
Keep the flooring throughout
Choose flooring for your outdoor space that complements your indoor flooring. This will make the outdoor space feel more like an extension of your indoor living space. You can choose the same flooring that can be continued to the outdoors or simply choose colors that complement each other.
Use a cohesive color scheme
Connect your indoor and outdoor spaces with color. Choosing complementary colors to bring adjoining rooms together.
Create a consistent décor theme
Use your décor in your home to guide the type of décor and furniture pieces to buy for your outdoor living space. This will create a more seamless transition instead of two separate rooms.
Options for outdoor living spaces
Before you dive into designing the perfect indoor-outdoor space, it's important to decide the function of your new outdoor space. How do you picture using it? Here are some ideas to get you thinking:
Lounge space: you can use your outdoor living space as an extension of your grand room by including couches, chairs, and side tables.
Outdoor dining room: an outdoor dining room gives you the option to enjoy a meal alfresco. This is especially helpful if your outdoor space is right off your kitchen so you don't have to carry food or tableware too far. If you have additional room, consider creating an outdoor kitchen as well!
Entertainment area: creating an entertainment area gives you another option to watch the big game or movies outside. You can hook up a television and sound system to create a focal point. Or you can install a fireplace to make your space more inviting and comfier in the cool evenings.
Designing the perfect indoor-outdoor space opens up a new world of entertaining and enjoying your new home. You'll be able to enjoy your favorite activities in a beautiful backyard. Many of our homes have options to create a California Room so you can create the outdoor living space of your dreams. Visit us at FCBHomes.com to learn more about our new home communities in the Central Valley!