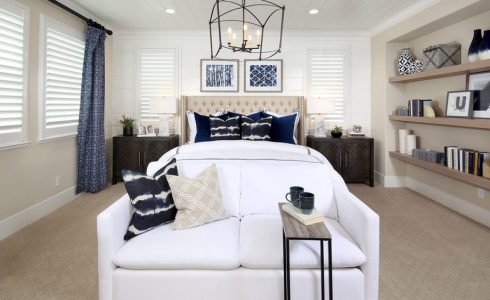 Design the Perfect Bedroom Retreat
Jan 26, 2021
The bedroom more than just a place to sleep; it's our most private room in the house. It's also where we retreat from a busy, noisy world to rewind and recharge. Creating a space that is inviting and comforting is important. Here's how you can transform your master bedroom into a private retreat.
Declutter
It may feel like we're always telling you to declutter but the truth is, it's nearly impossible to truly relax in a messy space. Remove everything that doesn't belong in your room: kids' toys, items from other areas of the house, extra books, etc., and put away clothing in the closet or hamper. Get into the habit of making your bed every day – it makes a difference!
Choose a calming color palette
Color has a big impact on our moods. There's a reason why you feel energized when you see yellow or feel at ease when you're in a blue room. Choose the right color that promotes a calming and relaxing atmosphere. Choose a color that evokes that feeling for you but if you're not sure where to start, neutrals and softer shades of blues are a good place to start.
Pick luxurious bedding
What makes hotel beds feel so luxurious? The magic is in the bedding! Choose bedding that's made from high-quality natural fabric like linen or cotton percale. These fabrics tend to be soft and breathable, making you feel more comfortable while sleeping.
Use soft lighting
Set the mood for a peaceful evening by using soft lighting. Most bedrooms have overhead light but consider supplementing them with additional sources of light with floor and bedside lamps.
Keep decorations to a minimum
Resist the urge to fill every wall and surface with something. Keep your accessories to a minimum to give your eyes (and brain) a break. Choose your most treasured items to keep on display.
You deserve a bedroom that's a personal oasis where you can feel refreshed after a long day. With these helpful tips, you can create the perfect bedroom retreat you'll love spending time in.
FCB Homes builds new home communities in Lodi. We hope you'll consider one of our new single-family homes when you're ready to buy. Visit us at FCBHomes.com to learn more about our communities, view plans, and schedule a tour.