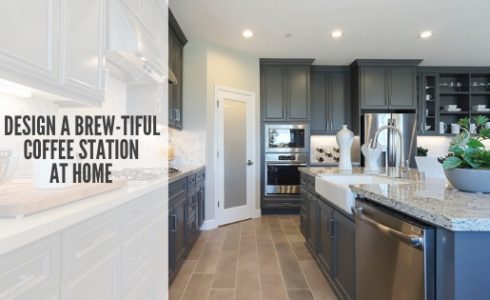 Design a Brew-tiful Coffee Station at Home
Jul 23, 2019
Are you a 'but first, coffee" person? If so, maybe a dedicated coffee station is on your wish list (or should be!). Having a dedicated coffee station feels like a luxury but is absolutely attainable. Not only will it elevate your morning routine, but it'll also make guests feel extra special.
Ready to make your own coffee nook? Check out the tips below on creating your own coffee heaven. And don't worry: this will work with any hot beverage! Tea, cocoa, cider…the only limit is your imagination!
Choose a location for your coffee station
You don't need a lot of space to create a coffee station in your kitchen; just enough space for your coffee maker, grinder, mugs and add ins! There are plenty of ways you can create a coffee station in your home: a kitchen counter, cabinet, or even a drawer, small table or rolling cart. Choose a space where you can keep your supplies in close reach of each other to make coffee preparation a breeze.
Organize your supplies
If you're less than functional without your morning cuppa, streamline the process by storing all your supplies in the same area. In addition to your coffee machine, keep everything you need to make your drink within reach: grinder, coffee, tea bags or leaves, filters and strainers, flavorings, other beverage packets, etc.
Store your mugs
You can't have coffee without a cup! Store your collection of coffee mugs close to your new station. Storage options can range from an overhead cabinet, a drawer, installing floating shelves or hooks on the wall.
Personalize your space
Channel your favorite coffee shop and decorate your new coffee station with some café-inspired art without going too theme-y.
Creating your own coffee bar can give make you feel like you're in your favorite café without needing to leave home. Whether you're enjoying your favorite cup of joe, tea, or cocoa, you'll love having a space to hold all your warm beverage essentials.