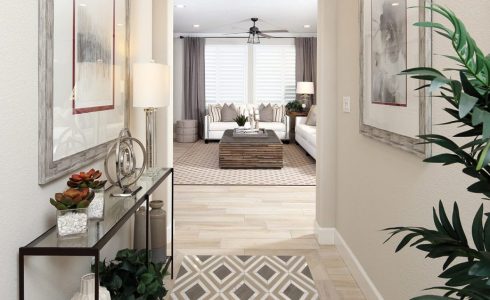 Create a Peaceful Retreat at Home
Aug 3, 2021
Our homes are often our refuge from a hectic and overstimulating world.  We all need a place where we disconnect from the world so we can be still and relax. The way you organize your home (or don't) can be a reflection of your state of mind. That's why it's important to have a space where you can feel restored. Here's how you can create a sanctuary for your family at home.
Conquer the clutter
Conquering clutter is the best way to reclaiming peace and relaxation in your home. If you've ever felt anxious in a messy room, the clutter was most likely the culprit. It's difficult to truly relax in a cluttered space. Clutter creates physical chaos that makes it difficult for our brains to overlook.
Spend some time cleaning out unused items and invest in some organizational tools like baskets, totes, and drawer inserts to combat clutter. Then make it a habit to put away everything after each use. This will keep your home neat and tidy and give your mind a much-needed break.
Bring in more light
Natural sunlight creates a sense of calm in any space. It also improves productivity and mood. Pull open blinds and curtains to fill your home with as much natural light as possible. A few strategically placed large mirrors can reflect light throughout a space. If the room doesn't get a lot of natural light, you can supplement with daylight bulbs to imitate the sun's natural light.
Create ambiance
Set the mood for relaxation by creating a soothing environment. Start by connecting with nature by filling your home with houseplants and other natural elements. If you struggle with keeping plants alive, low-maintenance plants like succulents or snake plants are a good option. Beyond that, artificial plants can have a similar visual effect on your mood as real plants.
Don't overlook the sense of smell in creating a peaceful environment. Candles, essential oils, incense sticks or reeds, or oil burners can help fill your home with pleasing scents.
Using music and sound is another way you can create a calm space. You can use a white noise machine or play natural sounds like chimes, running water, or rain to block out everyday noise and soothe your mind.
Feel uplifted
Make your home feel inviting by surrounding yourself with items that bring you joy and evoke happy memories. Add things that make you happy, like fresh flowers, inspiring art, photographs, and special objects that remind you of happy times. Be careful not to overwhelm your space with your chosen items.
Having a personal space where you can relax and let the daily stressors fade away is important to your mental and physical well-being. Turning a room, nook, or outdoor space into your personal sanctuary is the first step towards feeling more peaceful at home.
Creating your own version of "home sweet home" is possible with FCB Homes. We build beautiful new homes that allow you to live your best life. Visit us at FCBHomes.com to learn more about our communities in Lodi and Riverbank, view plans, and schedule a tour.