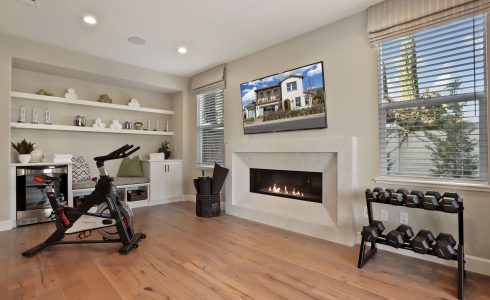 Create a Home Gym You'll Actually Use
Jun 15, 2021
The past year has shown how important our physical and mental wellbeing is. One of the best ways to staying healthy is by working out. If you're deciding between renewing your gym membership or considering bringing your work out home, here are some reasons to consider retiring your gym membership.
There are several benefits of having an in-home gym. First, it removes the stress of getting to and from the gym during a busy day. It's often cost-effective compared to gym memberships. Second, while you will face upfront costs for setting up your gym, you'll appreciate the long-term savings from not having to pay membership fees. Having a dedicated exercise space at home also helps shift your perspective from working out as a chore to being a lifestyle habit. Finally, adding a workout room can increase your home's resale value.
In fact, having an exercise room is gaining in popularity! The National Association of Home Builders' recent "What Home Buyers Really Want" survey found that nearly half of recent or prospective homebuyers – about 47% of respondents, said having an exercise room was either essential or desirable.
Ready to get moving? Here's how to create a home gym you'll actually love using.
Choose the right space
The location of your home gym can affect how consistently you use it. If the room you've chosen is difficult to access or you're constantly interrupted, you're less likely to be motivated to use it.
Also, consider the type of exercise you like doing. If you're using heavy weights or have a lot of bulky equipment, the backyard or garage maybe your best option. Both places tend to be tucked away from the home and the concrete floors can easily accommodate the weight of the equipment. Otherwise, spare rooms are commonly used for home gyms and can handle the rigors of regular exercise.
If you're wary about dedicating a full room right from the start, you can start small by storing basic equipment in the corner of another room and work your way up to a dedicated space as you become more consistent with your training.
Add equipment as you go
It's easy to convince yourself that you'll work out more if you had a home gym. But chances are unless you already have an established history of consistent workouts, it's best to slowly build your dream gym. Start small with the items you know you'll use and add fancier equipment as you get stronger and begin to consistently work out. This will also give you time to understand how you use the space, the types of exercise you prefer doing, and the specific equipment you need.
Make it motivating
You're more likely to use your home gym when you enjoy being there. The mood and atmosphere of your gym have a big impact on how often you use it. Capitalize on natural light and supplemental lighting to brighten the space, making your gym feel more welcoming and inviting. If you work out in the garage and often get cold, consider adding space heaters to stay comfortable.
A bonus of creating your own gym is the ability to personalize your space. Your home gym doesn't have to be all work and no play. Take a cue from your favorite gyms and studios. If you're into strength training or cardio, incorporate bold, energizing colors and hang motivational prints or artwork. If you use your space for lower-impact workouts like yoga and Pilates, use lighting and paint colors to create a peaceful and calming environment. You can hang a television if you stream workout classes or watch your favorite show while on the treadmill or set up a speaker system so you can blast your favorite music.
These simple tips will help you create a home gym you'll be excited to work out in. Incorporating physical fitness into your everyday lifestyle has a lot of benefits. By creating a home gym, you'll be able to enjoy these benefits on your schedule.
FCB homes are designed for the things you love most: your family. Our new homes offer the flexibility to create the home your family needs. Visit us online at FCBHomes.com to learn more about our new home communities in Lodi and Riverbank. We hope you'll consider one of our new single-family homes when you're ready to buy.