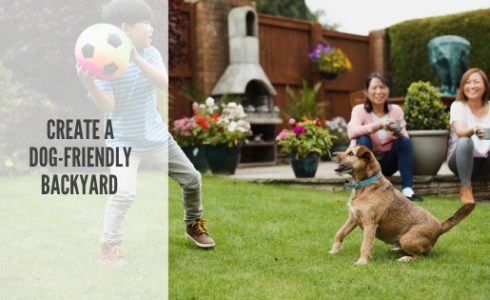 Create a Dog-Friendly Backyard
May 14, 2019
Having a dog and a nice backyard aren't mutually exclusive! With just a few accommodations, you can create a haven for the entire family. Even if your dog spends most of their time indoors, you'll still want to create a backyard that's safe for them as well. Here's how you can create an dog-friendly backyard space you and your pet will love.
Keep it fenced
While our furry, four-legged friends descended from wolves, the best thing you can do to keep your pets safe is fencing your backyard. Fences will give your dog a safe place to run and play without the worry of a strange dog wandering in or your own pup getting loose.
Be sure that your fence is sturdy enough to contain your dog and fix any gaps that could potentially be an escape route.
Provide shade and shelter
Most dogs love basking in the sun so give them a place where they can soak in sunshine. Likewise, you'll also want to give them some ways they can escape the heat, whether it's in a doghouse or some other shade structure. Since it can get very warm during the summer and fall months in the Central Valley, heatstroke and sunburns are a real risk.
Create a play space
Dogs are like furry children: they love to run and play and need space to do so! Create running paths they can roam and patrol their territory. You can also add fun features for them to interact with as well. They can be as simple as their favorite toys or even a digging pit (it sounds counterintuitive, but having a designated digging area will keep your dog from digging up your flowerbeds). Remember: the more they run and play outside, the less likely they'll get into trouble inside.
Have a water area…
Keep a water bowl within easy reach so your dog can quench their thirst, especially in warmer climes. If you have room, consider adding a water feature like small fountain or even just setting up a doggie pool or sprinkler for warmer days.
…and a place to potty
Do your lawn a favor and train your dog to relieve themselves in a specific spot. Designating a single area will protect your grass while keeping the rest of your yard useable. You can build a simple relief station with some pea gravel or cedar mulch (be sure to avoid using cocoa bean mulch which is toxic to dogs) and a fiberglass screen for added privacy if you prefer!
Use pet-safe plants
Do some research and plant only trees and flowers that are safe for your pets. Many people don't realize some common plants like dahlias, lilies, and mums, are actually harmful for their pets until it's too late. If you need help identifying pet-safe plants, check with your vet and the ASPCA for plants to avoid. Make sure any fertilizer, pesticides, or other chemicals and tools are safely stored away.
With a bit of thought, you can make the backyard that will be you and your dog's favorite place to hang out.