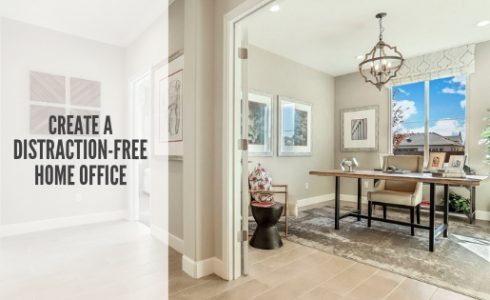 Create a Distraction-Free Home Office
Apr 2, 2019
The idea of working from home is enticing: no commute, getting to work from your bed in your pajamas, or easily catch up on those little household tasks that always seem to pile up. But it also takes a lot of discipline and boundary-setting. With the right mindset and home office design, you can be just as productive (if not more) working from home as you can be working from the office.
Get out of bed
The appeal of working from bed is strong. Who wouldn't want to work while snuggling in your warm blankets? Before you grab your laptop, consider this: studies have shown that our brains associate certain activities with specific rooms. What does that mean? If you regularly work from your bed, your brain will begin to associate your bedroom with work, making it difficult to relax after a long day.
Avoid making that distinction by creating a workspace away from your bedroom. Whether you have a dedicated home office, convert an extra bedroom or set up at a desk in a nook, create a space that is solely dedicated to working, which will prime your mind to be productive.
Get organized
Making sure you have everything you need will help you stay productive instead of spending precious time looking for things. Start with decluttering your workspace, keeping just the essential items you need to work. Find the right storage for your computer accessories, paperwork and whatever you need to get your work done.
Create boundaries
There's a greater importance on setting clear boundaries when working from home. A common misconception is that you're always available because you're home. It's tempting to wash the dishes or do a quick load of laundry but soon those chores creep more and more into your workday.
Make it clear to your family that when you're at your desk, you are working and shouldn't be disturbed unless it's important.
Invest in the right furniture
Your health and safety is crucial if you want to be productive. An uncomfortable work setup will negatively affect your productivity and increase the possibility of developing work-related muscle or eyestrain.
Invest in furniture that will support a healthy working environment. Invest in a chair that properly supports your back and a desk that's an appropriate height for your neck and arms. If you can, consider getting a sit/stand desk so you can switch between sitting and standing throughout the day.
Your home office should be a space you'd enjoy working in every day. Having full control over your workspace is a definite perk of working from home so enjoy the freedom you have to create the perfect working office for yourself. Once you create a space that truly inspires you, work will feel less like work.
Many of our new homes have the option to create a dedicated home office. Visit us online at FCBHomes.com to see our new home communities in Lodi, Manteca and Stockton, view our home floorplans or call us to schedule a tour today.