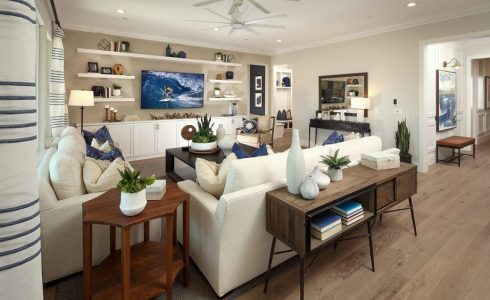 Common First-Time Homeowners Decorating Mistakes
Jan 4, 2022
You did it! After months of planning, saving, and shopping, you're officially homeowners. Now that you have the keys to your new house, it's time to turn it into a home. Decorating a new place is fun and exciting but can also be daunting. Where do you start? What do you get? Where should you place it? It's easy to make a lot of rookie mistakes especially when you're decorating your first home.
Before you start filling every corner of your home with stuff, here are a few common mistakes first-time homeowners make and how to avoid them.
Not imagining your entire home
A common decorating mistake is treating your home like a collection of rooms instead of a combined space. Here are a few things to consider when creating your design plan:
consider how the rooms flow into each other, especially if you have an open floorplan.
reflect on which feelings you want to experience in your home.
think about how you want to use each space and how your existing pieces fit in your vision.
Once you've carefully thought through these times, you can begin to put together a decorating plan for the rest of your home.
Buying everything at once
Sometimes the desire to have your home feel "finished" causes us to move faster than we should. It's tempting to buy everything you need at once so you can just be done and move on with life (this is especially common for people moving into a larger home) but rushing to finish has its disadvantages.
Rushing to finish a home means you may settle on a piece because it's available and not because you love it. This will lead you to having mismatched pieces that don't work with each other. Avoid this expensive mistake by slowing down and thoughtfully planning how you want your home to look.
Take time to live in your home first so you can discover the quirks that make it special. This will allow you to understand how your family uses each space and how the light moves through the house. When you slow down, you can find quality pieces you'll love for several years. You won't win a medal for finishing your home quickly so take your time so you can get it right.
Estimating measurements
There's a time to eyeball measurements but choosing furniture isn't the right moment. A successful design hinges on having accurate measurements. Not only do you want to know the room's dimensions (length, width, and ceiling height), you also need to know the dimensions of your current furniture and everything you plan to buy to make sure it will fit and there's plenty of room to walk around. Don't forget to measure the doorways and hallways so you can move your furniture through the house.
Overlooking scale
Knowing the dimensions of your room will help you choose items that fit in the room. Proper scale, how something looks in relation to something else, impacts how a space looks. Placing large, overstuffed furniture in a small room will make it feel cramped. Likewise, low-profile couches and chairs will look tiny in a large space with vaulted ceilings. The size of your space should dictate the size of your furniture. Large, open spaces are perfect for chunkier and overstuffed pieces whereas low-profile pieces are better suited for smaller rooms.
Placing everything against the wall
Instead of defaulting to placing everything against the wall, get a little creative with furniture placement. Place furniture closer together to create conversational zones. This will keep your furniture away from the ways but also help fill that weird empty space in the middle, making the room feel cozier and more inviting.
Rushing the process
As mentioned earlier, you don't need to have a perfectly decorated house the day you move in. Sometimes the best spaces come together over time. Instead of rushing to finish, pick a few rooms to focus on at a time. Often-used rooms like the kitchen and living/family rooms are great places to start. As you finish decorating those spaces, choose the next few rooms and slowly make your way through your home. You'll appreciate taking your time to find the right furniture for your home.
When it comes to decorating your home, there are no hard-and-fast rules. Ultimately you want to create a space that reflects your personality and is comfortable to be in.
Decorating your first home is exciting and we hope these tips make the process easier. If you're still on the hunt for your dream home, we hope you'll consider FCB Homes. We have homes for sale in Lodi or Riverbank. Visit us online at FCBHomes.com to learn about our new home communities, home designs, and more. We look forward to welcoming you home!