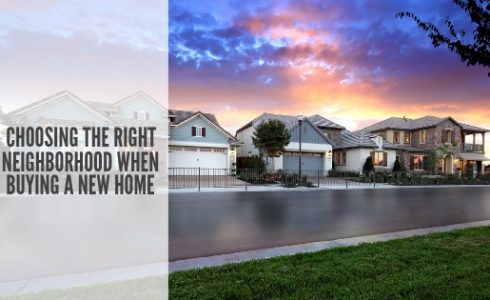 Choosing the Right Neighborhood When Buying a New Home
May 28, 2019
Buying a new home is an exciting time, especially if this is your first home purchase! Since you'll be in this new home for many years to come, its important to find one in a neighborhood your family will enjoy. Your neighborhood impacts many parts of your life: its where your children will make friends and go to school and where your family will interact with the community. Your neighborhood impacts how much you enjoy your new home. Here are some tips to help you choose the right neighborhood for your family:
Create a neighborhood wish list
Make a list of qualities you want (and don't want) in your new neighborhood. What kind of neighborhood vibe do you want? A family-friendly suburb with great schools? Something closer to downtown with an urban feel? Do you like the up-and-coming area of town that's close to downtown but still has a mix of families? Are you willing to live further from work or other conveniences for a great neighborhood with fantastic schools?
Write down everything that's important to you and your family and see which neighborhood meets most of those qualifications.
Research the neighborhood
Now that you've got your neighborhood wish list, start researching local neighborhoods that tick of most of your list. If you don't have a specific neighborhood in mind, ask your real estate agent or friends and family for recommendations. You'll want to check for any existing neighborhood amenities, including walkability Use online tools like GreatSchools to view ratings and reviews of local public and private schools, and check out City-Data.com and CrimeReports to get an idea of safety.
Look for lifestyle fit
It's important that your neighborhood is a good fit for your current and future lifestyle. If you're planning to or have children, you'll most likely will want a suburban family friendly community with parks, good schools, and recreation activities instead of a home in a loud neighborhood closer to downtown.
Visit the neighborhoods in person
You've done the online research, talked with your friends, and created your neighborhood short list. Now it's time to hop offline personally visit your potential neighborhoods in person. There's no better way to get a good feel for a neighborhood's personality and vibe than visiting the community in person.
While you're driving or walking through, take note of what you see, hear and feel. How close are the shopping and dining options from the neighborhood? Are the houses well-maintained? Do you see people outside? This is also a good time to look for warning signs: lots of 'For Sale' signs, abandoned buildings or poorly maintained homes, etc.
You'll also want to stop and listen, not just for nature sounds, but general street noise (can you hear the freeway? Is the house off a busy thoroughfare?) and figuring out if they're at an acceptable level. Take time to visualize yourself in the neighborhood by thinking about your daily routine and if the neighborhood will fit. If you like to run in the morning, is there a nearby running path?
And be sure to visit the neighborhoods at different times during the day. While it may be quiet on the weekends, it could be a virtual parking lot during rush hour! Check to see if the streets are well-lit at night as well.
Finding the right neighborhood is just as important as finding the right home for your family. That's why FCB Homes is dedicated to building new homes in desirable neighborhoods in Lodi, Stockton and Manteca. Our neighborhoods have earned a reputation for being among the most desired addresses in town. If you're considering moving and are looking for the perfect neighborhood for your family, visit us online at FCBHomes.com to learn more about our new home communities and to find your new home!