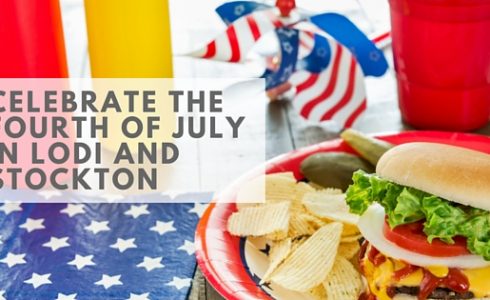 Celebrate the Fourth of July in Lodi and Stockton
Jun 28, 2016
The Fourth of July is nearly here and we are getting ready to celebrate here at FCB Homes! There are plenty of fun events to attend near our Rose Gate community in Lodi and Stockton:
Lodi
4th of July at the Lake: Celebrate the Fourth of July at Lodi Lake! This all-day event begins at 7AM with a Kiwanis International Pancake Breakfast, Farmers Market, activities by WOW Science Museum, food booths and a fireworks display. There will be free admission into Lodi Lake. Public swimming, boat rentals available for an additional fee.
Stockton
Freedom Fest 16: Enjoy food, fun & fireworks at The Home Church's annual "Freedom Fest" Fourth of July Celebration on Sunday, July 3rd. There will be family-friendly entertainment, car show, Field of Flags, inflatables, water slides, outdoor concert with Grace Abounds, kid's rodeo, carnival rides and games, train rides and fireworks display. The Patriotic observance begins at 10:30AM and outdoor celebration begins at 4:30PM.
2nd Annual 4th of July Car Show: The Bridge at Stockton is hosting its 2nd Annual 4th of July Car Show on Monday, July 4th. This free, family-friendly event features a car show, live music, children's carnival games, BBQ & food trucks, and raffle prizes.
Stockton Ports vs Lake Elsinore Storm: Independence Day Fireworks: Celebrate the 4th of July and cheer on our local baseball team, the Stockton Ports! Individual game tickets vary so please check out the Stockton Ports ticket page for additional information and ticket prices. The game starts at 6:30PM and will be followed by fireworks display.
If you want to celebrate our Nation's birthday with friends and family at home, here are a few ideas for hosting a Fourth of July celebration in your FCB home:
Decorations: Decorating for this holiday is relatively easy: it comes with its own color scheme after all! You can keep it simple with a few festive touches that set the mood or go all out! Here's a roundup of a few great decorating ideas you can use for your party:
Creative Independence Day Decorations from Divine Dinner Party
Food/Menu: Food is the star of this holiday! Decide if you'll be providing the main dishes and have your guests contribute side dishes or if you'll be providing all of the food. If you're asking guests to bring contributions, be sure to let people know what specifically to bring – that way you can avoid having multiple plates of desserts and not much else!
Also, feel free to use your local grocery store to your advantage by purchasing food from the deli department. Load up on prepared fruit salad, coleslaw, potato salad and any other dishes your guests may like. Then add your own twists to finish off the dishes like adding some mint to the fruit salad or making a delicious dressing, like this honey lime dressing.
If you need some more ideas on menu planning, check out this comprehensive list of sweet and savory recipe ideas from Delish.com.
Entertainment: While waiting for the fireworks show to start, keep your guests entertained by creating a party layout that encourages mingling without having to stay near dining tables. You can also set up some fun backyard games for both adults and kids can enjoy, like cornhole or bean bag toss, ring toss, or even a giant set of Jenga blocks. The possibilities are endless!
Here is a great resource for some more fun backyard game ideas that will be perfect all summer long.
However you plan on celebrating the Fourth of July, we here at FCB Homes hope you have a safe and happy holiday with your family and friends.