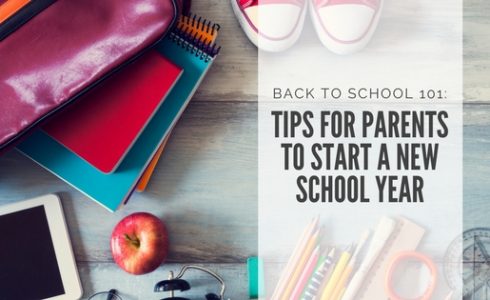 Back-to-School 101: Tips for Parents to Start a New School Year
Jul 11, 2017
The Back-To-School Countdown has begun.
As summer vacation ends, it's time to start thinking about going back to school. While kids might not want to think about school just yet, now is the perfect time to start preparing them for the new school year. Here are some tips that can help ease the transition from summer to school:
Adjust to a new routine
While it's tempting to wait until later, experts agree that it's better for both you and your children to ease into the school-year schedule. A few weeks before school begins, move their bedtime to an earlier time that is closer to their school year bedtime.
Likewise, gradually move their wake-up time earlier and earlier so it's closer to the hour they will need to wake up when school begins.
Create a school day routine with your children so they can readjust to their new schedules and establish rules and expectations for homework and leisure time once they return home.
Establish a nightly "Get Ready" routine: pick out clothes for the next day and pack backpacks with completed homework and notes.
Get Organized
Make sure you have all the necessary immunization records available for each child and catch up on any missed require shots!
Update the school emergency contact and health information
Many schools send out informational packets for parents ahead of each school year. Make sure to review the packets and complete any forms ahead of time. Also mark important dates (like back-to-school night, parent-teacher conferences, school holidays, etc.) on the family calendar
Designate and prepare a study area by setting up a special place at home to do school work and homework. Help children focus by removing any distractions (TVs, smartphones, tablets, and video games to name a few).
Plan out transportation and routes ahead of time. Will you be dropping your children off? Will they be taking the bus, walking, or riding bikes? However they will be getting to school, make sure to review the plans before school starts, even if it means taking a few practice runs for your children to learn how to get to school. You don't want to find out it takes ten minutes to walk to the bus stop instead of five minutes on the first day of school!
Smart Shopping
Plan your shopping trips. Go through your children's wardrobe and weed out everything they've outgrown. This will help you know exactly what they will need for the coming school year.
Avoid the all-day school clothes shopping marathons (and the headaches that come with them) by purchasing a few outfits or pieces for the first few days of school and then slowly build their school wardrobe over several shopping trips when the stores are not as crowded.
Buy school supplies early to take advantage of sales. While it's hard to predict exactly what your child will need, pick up some essentials that will get them through the first few days until you have a better idea of what they'll need. Keep your receipts so you're able to return any unnecessary items. If your child's school provides recommended shopping lists, use them to guide your school supply shopping.
Get them excited for the new school year
Talk to your children about how they are feeling about going back to school. Acknowledge how they're feeling and help them tackle any anxieties by discussing any concerns or fears they may have.
Visit the school and classroom, if possible. This is especially helpful for younger children or if they're new to the school. Meeting the teacher and familiarizing them with their classroom, hallways, and important offices (the main, principal and nurse's offices, cafeteria, etc.) can help ease any worries. Be sure to call ahead to find out if teachers will be available.
Discuss what their goals and expectations are for the new year and help them create a plan to reach them.
A little preparation before the first day of school can go a long way in helping ease the transition from summer vacation to a fantastic school year.