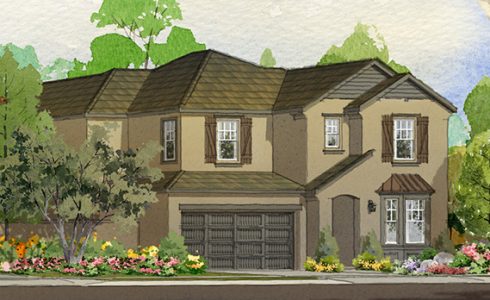 An Interview with the Architect for Jubilee
Oct 31, 2014
Don White, of William Hezmalhalch Architects (WHA), discusses the design process behind Rose Gate's first of three new neighborhoods, Jubilee. WHA is a renowned architectural design and land-planning firm that has specialized in crafting residential communities since 1981.
Don is the lead architect for two neighborhoods in Rose Gate and he's well versed on the unique qualities of Lodi that influenced Rose Gate's design decisions. The first neighborhood, Jubilee will feature one and two-story homes starting at 1,955 square feet of living space, spacious rooms, and the best of indoor/outdoor living. Pricing will not be available until next year, as we get closer to opening the models. The next two neighborhoods, Artistry and Celebration, will become available later in 2015.
Q: HOW DID THE SURROUNDING COMMUNITY OF LODI, AS WELL AS ITS RICH RESIDENTIAL HISTORY, HELP INSPIRE OR DIRECT DESIGN CONCEPTS FOR THE JUBILEE AT ROSE GATE?
Lodi is a small town with a relaxed California lifestyle and a plethora of wineries. We knew the importance of this cultural significance for the area, so we worked with FCB Homes to ensure that the concept of relaxed California living was infused throughout the project.
An Introduction to Jubilee at Rose Gate in Lodi
Q: ROSE GATE ITSELF, AS A MASTER PLAN WITH VARIOUS PRODUCT OFFERINGS AND COMMUNITY AMENITIES, HAS A STRONG SENSE OF PLACE. WHAT WAS DONE TO HELP FOCUS JUBILEE'S ARCHITECTURE AND DESIGN CONCEPTS TO BRING THE HOME AND COMMUNITY SOCIAL EXPERIENCE TOGETHER?
Jubilee was designed to create a seamless interaction between the indoors and outdoors. We wanted to activate the community amenities by ensuring the residential design was closely tied to them. There are large great rooms/large kitchen islands, and intentional outdoor living areas that make it ideal for hosting and social living.
Q: DESCRIBE HOW YOU IMAGINE THE BUYERS AT JUBILEE WILL LIVE IN YOUR HOMES AND WHAT THEY MIGHT BE MOST PLEASANTLY SURPRISED TO DISCOVER?
These are newer designs for the area so that in and of itself will be refreshing. They have a very open and relaxed feel creating a casual living experience. We think they'll be pleasantly surprised to and the quality of the details throughout as well as nicely sized master bedrooms, his-and-her sinks, walk-in closets, and high ceilings.