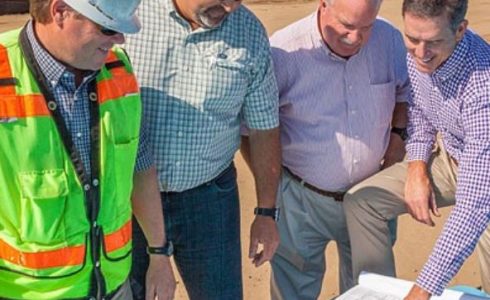 A Warm Welcome From Rosegate
Sep 4, 2014
A WARM WELCOME From Rose Gate
Welcome and thank you for your interest in Rose Gate, Lodi's first new home community in over a decade. Following years of planning and preparation for the community, FCB Homes is pleased to provide this inaugural e.Newsletter to those of you who have expressed a desire for information over the last few months at FCBHomes.com or RoseGateHomes.com. Our goal is to keep you up-to-date on the progress at Rose Gate. We also look forward to sharing exciting news with you about community development milestones, design details and other important events planned for the months ahead.

IT'S COMING TOGETHER
It's been a busy summer at Rose Gate! The activity includes the coordination of multiple pieces of heavy equipment and up to 35 construction personnel working on-site each day. Our principle site contractor, Knife River Construction, has completed the rough grading including the excavation of the planned park/ basin, future streets, along with the initial preparation of our 230 homesites. Our experienced team of engineers, contractors and utility companies are now installing all the underground utilities. This work includes installation of nearly 40,000 feet of sewer, water and drainage pipes, ranging in diameter from 6 to 42 inches (that's about 7.6 miles if laid end-to-end). We are on schedule towards our goal to commence Rose Gate's model home construction by the end of this year. We anticipate that our model homes will be completed and sales will start in early 2015.

A ROSE BY ANY OTHER NAME
In case you've been wondering how Rose Gate got its name, here is a little insight. Since 2002, the rose has been the official flower of Lodi. Our city's affinity for roses is found throughout the community, as well as in its surrounding vineyards and rural landscape. Rose Gate's location – at Lodi Avenue – represents an important "gateway" street into the heart of Lodi. It seemed only fitting to combine these two important attributes when we chose the name Rose Gate.