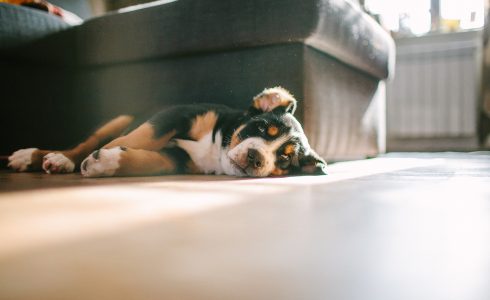 7 Simple Tips for a Pet-Friendly & Clean Home
Apr 5, 2022
Living with pets is amazing. The joy of returning home and being welcomed by your fur babies is immeasurable. But sometimes it can feel impossible to have a home that's pet-friendly and clean. Don't fear! We put together 7 cleaning tips that will help you have a clean home and happy pets.
1. Groom your pet regularly
Regular baths and brushing are the best way to keep your home clean. Maintain a bathing schedule that's appropriate for your pet (some need it more than others) to minimize smells. Both cats and dogs benefit from regular brushing, especially if they shed. This will minimize the amount of fur and pet dander throughout the house. Keeping your pet's nails trimmed will also reduce scratches on your floors and furniture.
2. Quickly clean accidents
Pets get sick and have accidents – even the best-trained ones. Prevent bad odors by attending to accidents and stains quickly. Enzyme-based cleaners are great for minimizing smells and removing stains. This is especially important for urine stains to keep your pets from returning and using the bathroom in the same spot.
3. Have quality cleaning tools
When you share your home with pets, you need to make sure your cleaning tools can handle the job. Choose a vacuum that can hand pet hair and dander – one with a quality filter, extra-strong suction, and a brush that pulls hair from the surface.
4. Keep paws clean
Dogs can bring in a lot of dirt and muck from their daily walks. Use a two-prong approach to reduce the dirt brought into your home. Place a quality doormat outside the door to catch some of the dirt. Then inside, have a towel and spray bottle or wipes near the door to clean their paws before coming further into the house.
5. Clean your pet's stuff
Your pet's toys and items can give off an unpleasant smell when they're dirty. Regular wash anything your pet uses like collars, toys, blankets, and bedding. Depending on the item, like bedding, blankets, and soft plush toys, you may be able to drop them into the washer. Otherwise, hand washing is fine. Be sure to use pet-friendly cleaning products.
6. Air out your home
There's nothing like fresh air. Open the windows to allow some fresh air to circulate through the home. This will clear out the stale air and make everything smell fresher.
7. Keep pets busy
A bored pup can be a destructive pup. One of the best ways to keep your pups active and engaged, whether through walks, interactive toys, or teaching them a new trick. Here are some additional fun ideas.
If you're still on the hunt for your dream home, we hope you'll consider FCB Homes. We have homes for sale in Lodi or Riverbank. Visit us online at FCBHomes.com to learn about our new home communities, home designs, and more. We look forward to welcoming you home!